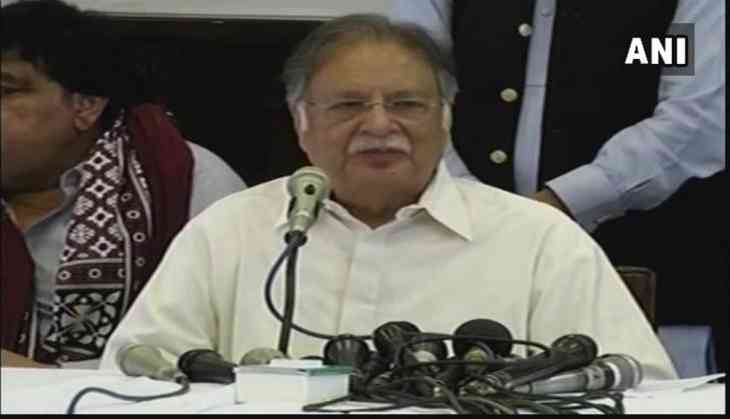 Ahead of former Pakistan Prime Minister Nawaz Sharif and his daughter Maryam Nawaz's arrival in Pakistan, Senator and senior Pakistan Muslim League-Nawaz (PML-N) leader Pervaiz Rashid on Friday said that Sharif is not being punished for committing a crime but for stopping it.
His comment was in connection with Sharif's conviction in the Avenfield reference case, wherein he was sentenced to 10 years of imprisonment and fined eight million pounds by the Accountability Court on July 6.
Along with Sharif, Maryam was sentenced to seven years in jail and slapped with two million pounds.
Addressing a press conference here, Rashid said, "Nawaz Sharif is being punished not for committing a crime but for stopping it. If Nawaz Sharif is in jail, will you able to commit a crime? No, because now every voter has become Nawaz Sharif".
He added that both Sharif and Maryam attended every hearing in connection with the corruption cases lodged against his family and that Sharif carried out his duties in the interests of the country.
"There was not a single day when the proceedings [in the court] stopped due to them or requests made by Nawaz Saab and Maryam Sahiba. Both of them were present in every hearing. It was on rare occasions that they had requested the court that they would not attend the hearings due to certain circumstances," Rashid said.
He, however, lamented that the accountability court dismissed Sharif's plea for delay in the announcement of the Avenfield verdict.
Rashid explained, "Sharif had made a request that the proceedings and the verdict should be postponed as his wife (Kulsoom Nawaz) was ill. He (Sharif) wanted to visit her and specifically said that unless her wife regained consciousness, he would not return to Pakistan. He did not say that he will never come."
Calling it as "injustice", he said, "If relief was given to (former Pakistan president) Asif Ali Zardari and her sister Faryal Talpur in the money-laundering case, then why Sharif was denied the same."
Speaking of the mass arrests of PML-N workers, Rashid noted that the party did not break any laws.
Citing the example of Pakistan Tehreek-e-Insaf (PTI) chief Imran Khan's rally in Lahore, Rashid continued, "Imran Khan began a rally. He roamed for hours in the Lahore streets. He said he will win the elections and is targeting the government. Did the police stop them and arrest their party workers? Were motorways and roads closed with containers?"
"We [PML-N] staged a peaceful protest. Yet, many of our party workers were arrested. Did we come out to break laws? Did we want to attack Islamabad? Why this injustice is being meted out to us," he added.
Rashid asserted that in a single case, Sharif was given four punishments.
He said, "First time, they (court) said that you cannot be the prime minister anymore. Second time, they said you cannot be a National Assembly (NA) member. In the third and fourth, he was removed as our party president and was barred from contesting elections. Finally, in the fifth, the court said you are convicted and need to serve your sentence. He is ready to face the fifth punishment here in Lahore."
Senator from the Islamabad Capital Territory, Mushahid Hussain recalled his friend's remarks on Sharif during his recent visit to Sindh.
"I recently went to Hyderabad. I met Ayaz Latif Saab and Rasul Saab, who are my close friends. I asked what is the people thinking about the elections. They said all are behind Sharif Saab because he is fighting against odds and he is oppressed," Hussain said.
He requested voters to vote for a better Pakistan and reject all rumours and accusations made by others.
Taking on the caretaker Punjab government on the crackdown against PML-N party workers,
Hussain asserted, "Our workers have been mobilised. Our plan has been decided (to attend the rally to receive Sharif from Lahore airport). For example, if your relative is coming and you go to receive him/her from the airport, will you be stopped? This is wrong."
Meanwhile, Nawaz and Maryam, who were in London to meet the former's ailing wife, Kulsoom, left for Pakistan on Friday.
According to The Dawn, Nawaz and Maryam are expected to land at Lahore's Allama Iqbal
International Airport at 6.15 p.m. (local time) from Abu Dhabi on Etihad Airways flight EY243.
The father-daughter duo will be arrested on their arrival at Lahore airport from where they will be taken to Islamabad by a helicopter, and then will be sent to Adiala jail in Rawalpindi for imprisonment.
--ANI