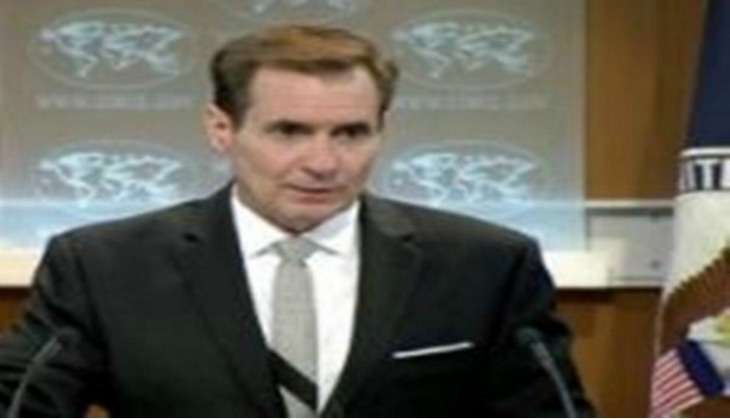 In an unexpected setback for India, John Kirby, spokesperson of the United States' Department of State, on 7 October said the United States will not be declaring Pakistan a 'terrorist state'.
While addressing the media in his daily press briefing, Kirby was asked about the online petition in the US Congress which sought to declare Pakistan a terrorist state and whether the United States would support it. He replied, "I have not seen anything specifically about the - such a bill, and obviously we don't - I'm not going to comment on whatever pending legislation may be coming in that regard."
He, however, added that the US would continue to work with Pakistan and Afghanistan.
In an effort to reduce the pressure within Pakistan, the State Department spokesperson, said, "We are confident that Pakistan has security controls they need on their arsenal." The statement was made in response to a question on whether Pakistan's nuclear bombs are safe from the hands of terrorists.
Despite Pakistan's repeated efforts to involve the international community in the Kashmir issue, Kirby said Washington's position has not changed and it will not interfere in solving the Kashmir issue.
"We want this to be worked out between both sides, the issue of Kashmir. And generally speaking, I mean, we obviously want to see the tensions that exist right now be brought down and for dialogue to take its place - meaningful dialogue to try to address these issues bilaterally between the countries," he said.
Earlier this week, Elizabeth Trudeau of the US State Department, had also echoed similar views and said that Kashmir is a bilateral issue to be resolved with the help of communication between the two countries.
Last month, two influential lawmakers had introduced a bill in the House of Representatives to designate Pakistan a state sponsor of terrorism. The bill known as the Pakistan State Sponsor of Terrorism Designation Act was moved by Republican Ted Poe and Democrat Dana Rohrabacher, who is a ranking member of the influential Congressional Committee on Terrorism.
Ted Poe, who is chairman of the House Subcommittee on Terrorism, said Pakistan is not only an untrustworthy ally but has also aided and abetted enemies of the US for years.
He said it is time the US stopped paying Pakistan for its betrayal and designate it a state sponsor of terrorism.
Poe said from harbouring Osama bin Laden to its relationship with the Haqqani network, there is more than enough evidence to determine whose side Pakistan is on in the War on Terror.
The relationship between the two estranged neighbours has plunged to a new low in recent times in the wake of Uri terror attack and the subsequent surgical strikes carried out by the Indian Army along the Line of Control (LoC).
-ANI