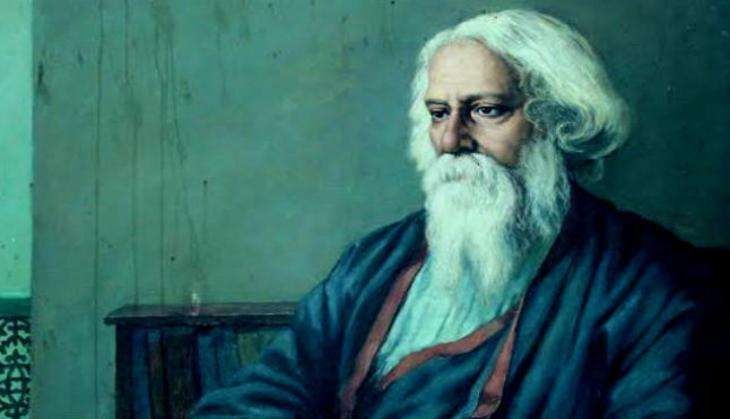 Argentina has enshrined the fond memories of Indian poet Gurudev Rabindranath Tagore, who had visited its capital Buenos Aires at the invitation of writer Victoria Ocampo and stayed at Villa Ocampo in the suburb of San Isidiro for two months from November-December in 1924.
It is believed that the Indian Nobel laureate had started drawing and painting after his stay with Victoria, whom he fondly addressed as 'Vijaya'. Later, she had organised an exhibition of Tagore's paintings in Paris in 1930.
Recently, Indian poet-diplomat Abhay K participated in an Indian Poetry Festival organised by the Indian Embassy in association with the prestigious Inter American University (UIA) in Buenos Aires on 11 June. This coincided with Buenos Aires Poetry Festival (7-11 June), where Villa Ocampo paid a tribute to Tagore.
In the poetry festival, Abhay K read out his new poems on Jorge Luis Borges, a famous Argentinian writer, Cesar Vallejo, one of the greatest poets of Peru, Ghalib, Dara Shikoh, Iguashu Falls, Atahualpa, the last sovereign Inca Emperor, and Prufrock.
Reading out his poem on Borges, Abhay K underlined the connections between Indian philosophy of non-dualism (Advaita) and the writings of Jorge Luis Borges. Borges had read the Mahabharata in German and was fascinated by the 'Yaksha-Yudhisthira' dialogue and the character of Dhritarashtra, the blind king.
He also delivered a talk on 3,000 years of 'Indian Poetry' at the Argentinean Council of International Relations (CARI) on 10 June on the sidelines of the festival.
The Indian poetry festival and talk on 3,000 years of Indian poetry were attended by a large number of Argentinean intellectuals, scholars, poets, translators and India lovers, who revived their desire to visit India soon.
Legendary poet-dancer of Argentina, Myrta Barvie recited poems of Kalidasa and Jayadeva, followed by Indian classical dance performances.
--ANI