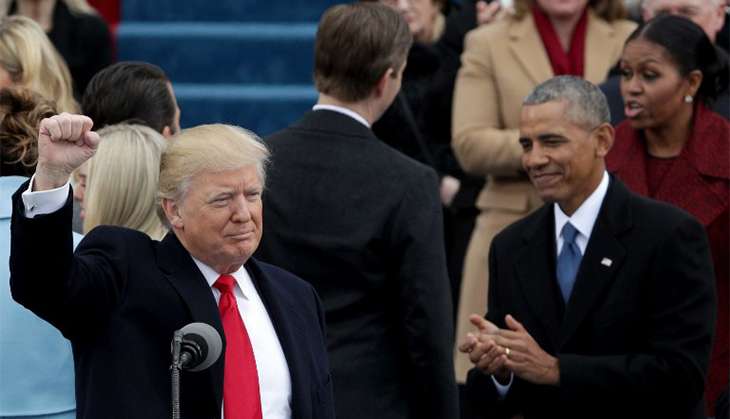 Donald Trump has become the 45th President of the United States of America, following his inauguration on Friday 20 January. It can be said that Trump shares a close relationship with controversies.
From mocking a disabled journalist to his verbal attacks on media organisations, Trump sailed through his controversy-ridden electoral campaign to emerge victorious.
Donald Trump and his quirky ways are here to stay
1. Trump's inauguration cake
The Trump team has again been hit by 'plagiarism' allegations with a celebrity pastry chef claiming that the spectacular nine-tier cake that the new president and Vice President Mike Pence cut into with a sword was a rip off of Barack Obama's inauguration cake from 2013.
For pastry chef Duff Goldman claimed that, Trump's inaugural cake seemed a little too familiar - because it looked almost exactly like the one he had made years earlier for Obama's second inauguration as president.
The Food Network personality posted a side-by-side comparison of two cakes on his Twitter account.
On the left, Goldman wrote in the caption, was the cake he had created for the 'Commander-in-Chief' inaugural ball in 2013.
The one on the right was the cake that had just appeared at Trump's 'Salute to Our Armed Services' ball," the chef's tweeted with the pictures of the two cakes.
The cake on the left is the one I made for President Obama's inauguration 4 years ago. The one on the right is Trumps. I didn't make it. 🤔 pic.twitter.com/qJXpCfPhii

— Duff Goldman (@Duff_Goldman) January 21, 2017
It appeared nearly identical to Goldman's cake from four years ago, right down to the colours, the patriotic bunting, and the placement of several small silver stars and seals.
"I didn't make it," Goldman wrote about Trump's cake, adding a suspicious thinking-face emoji at the end.
It was Tiffany MacIsaac, owner of Washington's Buttercream Bakeshop, who created the much-talked-about cake for Trump's inauguration festivities. She said the order came in while she was out of town, and that the client had brought in a photo of the cake from Obama's inauguration asking her to re-create it.
Allegations of plagiarism are not new in Trump's nascent administration. President's spouse, Melania Trump, was accused of lifting a portion of her speech at the 2016 Republican National Convention from one Michelle Obama gave at the 2008 Democratic National Convention.
2. Trump's celebratory cake (Election Day)
Well, it isn't first time that a Trump cake is being widely talked about. US President's election day celebratory cake has also shared limelight. A cake in the shape of large bust of Trump's head made its way to the Trump Tower for his victory party.
How come Trump Cake looks just like one of the space vampires from Lifeforce? #trump #trumpcake #vampire pic.twitter.com/IGXmuUL6YQ

— joshua a haines (@heyjoshhaines) November 8, 2016
3. Trump's inaugural address
Donald Trump's inaugural address on Friday rang a bell in many ears as according to some people a small part of his speech sounded quite similar to words uttered by the Batman villain Bane in "The Dark Knight Rises."
Bane: We take Gotham from the corrupt! The rich! The oppressors of generations who have kept you down with myths of opportunity, and we give it back to you - the people.
President Trump: Today we are not merely transferring power from one administration or another. We are transferring power from Washington DC and giving it back to you - the people.'
4. My Way
Trump danced his first dance as President with First Lady Melania Trump as a part of the inauguration celebrations and his choice of the song hit the headlines.
He chose to dance on the 'My Way', popularised in 1969 by one Frank Sinatra.
The first line of the popular song says "And now, the end is near" making it a very bold choice for the President.
Many people argued that the song depicts that, 'For Trump, it has been made clear, it is his way or no way at all.'
--With agency inputs