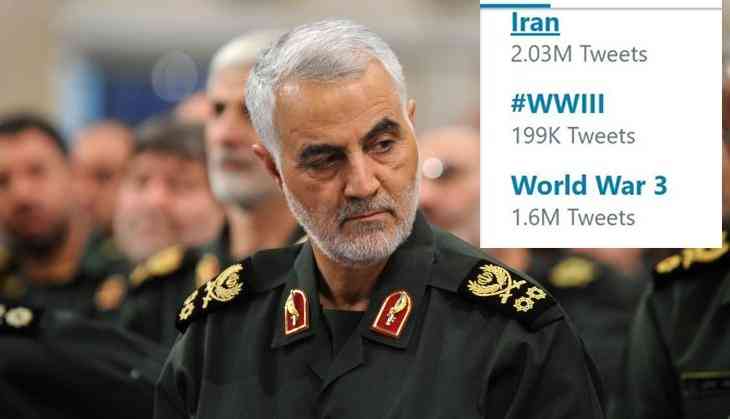 Hours after the top Iranian commander Qasem Soleimani along with the leader of was killed in a US drone attack at Baghdad, World War III and WWIII started trending on Twitter globally.
The WWIII hashtag quickly rose on top of global Twitter trends with more than 200,000 tweets. All most all the posts were followed by the phrase 'World War 3'. Apart from #WWIII, World War 3 also on the Twitter trend globally.

Here are some reactions:
Trump accidentally starting world war 3 #WWIII #worldwar3 pic.twitter.com/nMt8maGeRy

— LAB4GAMES (@Labforgames) January 4, 2020
We not gonna talk about the episodes the simpsons where trump dies then we go to war??? #WorldWarThree #WWIII pic.twitter.com/evijNt2q5h

— Abigail Gallardo (@_agallardo_) January 4, 2020
hi, thinking of a new petition to only draft people who voted for Donald Trump in the war #WWIII pic.twitter.com/NI3XJgJWvo

— Josie (@KysJosie_) January 4, 2020
Me during #WWIII when I see gunshots and explosions pic.twitter.com/5nPNlOZvhE

— Mingo (@BroMingo31) January 4, 2020
This Twitter trend also witnessed mixed responses from the user. While some of the users were supporting the Trump administration for the killing of the commander Soleimani, some internet user was found criticizing the US.
One user wrote: "I wish this #WWIII will be like how US artists do their world tours, they leave Africa out of it."
"Hope and pray that there will be no WW3 because. War is not a joke. War is not a meme, war is not friendly, war is not a JOKE. #WorldWar3, #WWIII, #worldwar3," another user wrote.
Just 72 hours into a new year #WWIII is on the way. I would love to congratulate @realDonaldTrump for this amazing oppurtunity and @hasanminhaj what is your opinion on WW3? pic.twitter.com/lJE07M6Nf5

— Lahsim M. (@Lahsim1) January 4, 2020
On Friday, US President Trump said that the reign of terror is over and the Iranian commander had contributed to terrorist plots as far away as New Delhi and London. The top Iranian commander Soleimani was killed in the US drone strike outside the Baghdad airport on January 2, along with the leader of an Iran-backed Iraqi militia.
Also Read: Who was Qasem Soleimani, the Iranian general killed in US drone attack?
Donald Trump: Qassem Soleimani contributed to terrorist plots in Delhi
After Qassem Soleimani's death Iran vows revenge for US attack
Qasem Soleimani's 'reign of terror' over, says Donald Trump