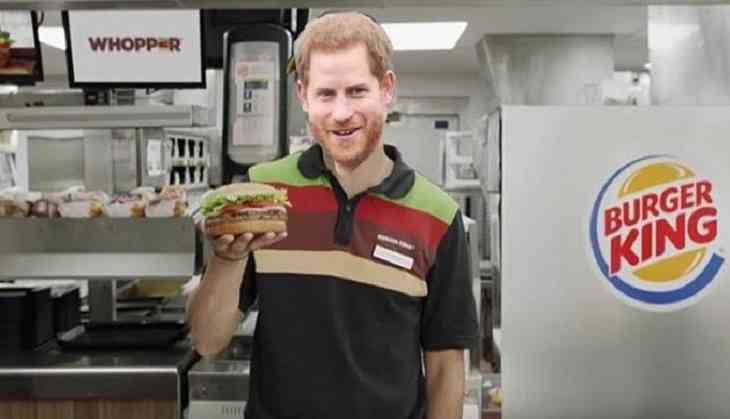 After Prince Harry and Meghan Markle bombshell decision to step back from royal duties has caused quite a stir across the globe. The royal couple wanted to be live financially independent. Some people have come in support of their decision while some tried to make fun of it on social media.
The latest reaction has come from the world-famous fast-food chain Burger King, which offered the Duke of Sussex a 'part-time' job.
The food chain has offered a job offer to Prince Harry on Twitter with a note: "If you're looking for a job, we have a new crown for you."
"We have a proposition for you: do as thousands of people and take your first steps in the world of work with us. Also, after so many years of living as dukes, it is time for you to start eating like kings," the advertisement said.
@ harry, this royal family offers part-time positions

— Burger King (@BurgerKing) January 13, 2020
Earlier on January 8, food chain shared the first tweet over Prince Harry's decision: "You always have a job in our kingdom."
you always have a job in our kingdom https://t.co/D9h23URFXz

— Burger King (@BurgerKing) January 8, 2020
"Dear Duke, you can look for your first job without giving up the crown," said the Spanish version of the advertisement in Argentina.
👸🤴 Queridos Duques, si andan buscando trabajo, tenemos una nueva corona para ustedes.
Trabajá con nosotros, elegí el futuro como vos querés: https://t.co/C2pVka9Y4y pic.twitter.com/6HwR0vMRWd

— Burger King Arg (@BurgerKingArg) January 9, 2020
The part-time job proposal to Prince Harry came on Tuesday.
The tweets shared by Burger King have received a lot of reactions on Twitter and took no time to get viral.
Many users have applauded the snack food company while some chastised the Burger King by slamming the advertisement.
That would awesome ! Part time as Burger King's son Prince Harry the prince of the Junior Whopper. No cheese of course. Cheese is for winners.

— Omar Hussain Viengar (@omar8816) January 13, 2020
You're company is also in the business of degrading a persons personal choice. Prince Harry deserves better then this kind of bullying and mockery. Never liked your burgers anyway.

— Wanda Velázquez (@wvelazquez) January 15, 2020
He's giving up being a "senior royal", not his dignity.

— Michael Greenfield (@greenfieldmj) January 13, 2020
I completely respect their decision! None of us knows what they have to deal with. Plus I believe that Harry is right to protect his family from the same horrible stuff that his mother had to go through! *have a heart*

— Lisa Newitt (@lisanewitt) January 13, 2020
Oh no that won't work! Ladies and gentlemen meet the Duke and Duchess of HOLLYWOOD! #MeghanAndHarry #megexit

— Melanie (@GypsyOooo) January 14, 2020
Would look forward having Mehgan and Harry taking my burger order; doubt it though as they would only take a meatless order the Duke and Duchess of "WOKE".

— anna (@pearlqueen18) January 14, 2020
You deserve a raise for this one! Bravo! Your replies are even better! Crowns off to you!

— Crystal Stover (@itsgottaendsoon) January 13, 2020
After Prince Harry and Meghan Markle decision to quit the royal family, the Madame Tussauds in London separated their wax statues from a display that featured with the other members of the British royal family.
What's your take on this step by Burger King?
Also Read: Prince Harry-Meghan Markle: Americans, Britishers divided over quitting royal frontline