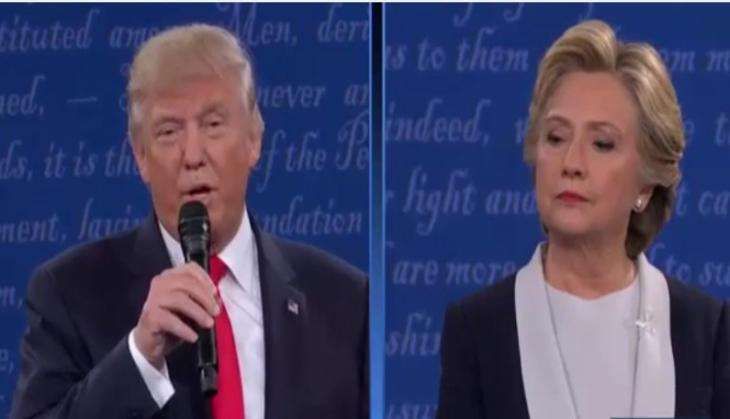 Presidential nominees for the upcoming polls in the United States, Democrat Hillary Clinton and her Republican rival Donald Trump locked horns at their second presidential debate on 9 October. From Trump's lewd tape to rape allegations against Bill Clinton, here are highlights from the 90-minute debate at Washington University in St Louis:
Trump's 'locker room' row
In what was one of the most-keenly anticipated points of the debate, moderator Anderson Cooper from CNN jumped on to topic of the lewd tape scandal minutes after the debate was thrown open.
The row relates to a 2005 video where Trump can be heard telling TV personality Billy Bush about how being a celebrity makes it easy for him to grope and kiss women. He can also be heard objectifying TV personality Arianne Zucker, who was present at the spot.
When asked about it at the debate, Trump said: "I am very embarrassed by it, hate it, it is locker room talk... I have great respect for women. Nobody has more respect for women than I do", stressing that he was sorry for his comments.
Clinton did not mince her words on the topic. She said that the video was one of many instances that proved that he was not fit to be president. "But it's not only women and it's not only this video that raises questions about his fitness to be our president. Because he has also targeted immigrants, African Americans, Latinos, people with disabilities, Muslims, and others, so, this is who Donald Trump is".
Also Read:Blow to Donald Trump! Misogyny row intensifies as more lewd tapes emerge
Trump accuses Bill Clinton of rape
Trump said that while he was embarrassed by the video - which has been widely circulated since it was unveiled 48 hours before the debate - his comments were "tame" compared to that of former US President Bill Clinton.
"If you look at Bill Clinton, far worse, mine are words, his was action. This is what he has done to women. There's never been anybody in the history of politics in this nation that's been so abusive to women, so you can say any way you want to say it, but Bill Clinton was abusive to women".
In a surprising move, Trump said he had produced four women who have accused Bill Clinton of sexual misconduct. One of the women invited by Trump, Juanita Broaddrick of Arkansas, alleged that Bill Clinton had raped her in 1978.
"Four of them are here tonight. One of the women, who is a wonderful woman, at 12 years-old... She is here with us tonight, so, don't tell me about words. And absolutely, I apologize for those words. But it is things that people say, but what President Clinton did, he was impeached, lost his license to practice law. He had to pay an $850,000 fine. To one of the women. Paula Jones, who's also here tonight," he said.
Also Read:Indian-Americans support Hillary Clinton after Donald Trump's groping women remarks
Terrorism
The candidates diametrically opposite stands on terrorism were on display for all to see. "She won't say the name and President Obama won't say the name. But the name is there. It's 'radical Islamic terror," Trump said. To which Clinton responded: "We need American Muslims to be part of our eyes and ears, on our front lines... We are not at war with Islam".
Clinton's email scandal rears head again
Raking up the issue of the Democratic frontrunner's email server row, Trump said: "There has never been anything like this, where e-mails and you get a subpoena and after getting the subpoena, you delete 33,000 e-mails and then acid watch them or bleach them. A very expensive process... And it's a disgrace and honestly, you ought to be ashamed".
He said he would put Clinton in jail for using a private a email server if he wins the White House. "If I win will tell my attorney general to appoint a special prosecutor to look at your situation," he said.
On health care (Obamacare)
Backing Obamacare, Clinton said: "20 million people now have health insurance". Slamming her claims, Trump said: "ObamaCare is a disaster..We have to repeal it and replace it with something absolutely much less expensive".
On Trump's tax evasion row
"We should demand that Donald release all of his tax returns," Clinton said, adding, ""Donald always takes care of Donald and people like Donald".
In response, Trump said: Trump: "She has been a disaster as a senator. A disaster... I understand tax code better than anyone who has run for president. I pay tax, I pay federal tax too"
Not one to back down, Clinton said: "Donald Trump is living in an alternative reality, it is amusing to hear someone like him talk about taxes."
A touch of graciousness
The debate ended on a rather surprising note, with both opponents complimenting each other - as requested by a member of the audience. While Trump called Clinton "a fighter", she said that she admired his children.