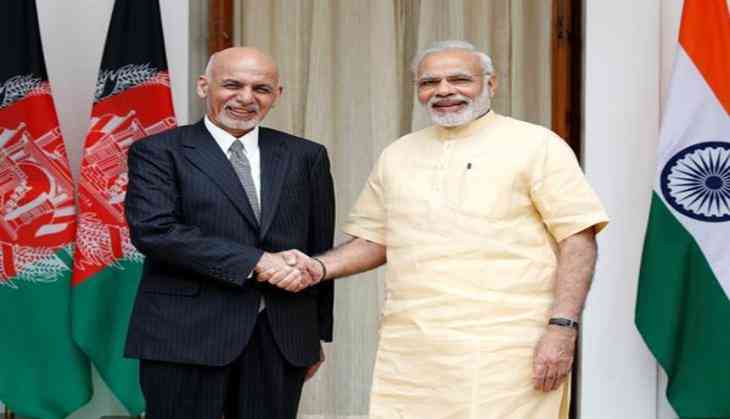 Prime Minister Narendra Modi held a bilateral meeting with Afghan President Ashraf Ghani on 9 June on the margins of the Shanghai Cooperation Organisation(SCO) Summit in Astana and strongly condemned the recent spate of terrorist attacks in Kabul and other parts of Afghanistan, and expressed India's sincere condolences on loss of hundreds of innocent lives and injury to several more.
Both leaders agreed that India's entry into the SCO as a full member would promote closer cooperation within the SCO, including on one of the main priorities of the organisation, namely fighting terrorism.
The two leaders discussed the current situation in Afghanistan with specific reference to fighting terrorism, and promoting peace, stability and reconciliation there.
At the Shanghai Cooperation Organisation, both the leaders addressed for the need of a coordinated efforts and approach to fight terrorism in the region by clamping down on terror funds.
Without mentioning Pakistan, both Modi and Ghani attacked Islamabad. President Ashraf Ghani called for joint efforts against terrorism and said those countries which differentiate between good terrorists and bad terrorists will pay the price for it.
While Modi during his speech has specifically stressed on the need of a united approach to combat terrorism, Modi said, "it was impossible to reach a solution till all countries made concerted efforts to fight radicalization, terrorist recruitment, training and financing."
Modi said the organization could play an important role in bringing peace in Afghanistan. "Whether it is the issue of extremism, terrorist's recruitments or their financial resources, it will not be resolved unless all the countries work together," Modi said.
PM Modi highly appreciated the sacrifices made by the brave Afghan people and assured President Ghani that 1.25 billion Indians stood by the friendly people of Afghanistan in resolutely and effectively addressing he challenge of terrorism imposed on that country.
-ANI