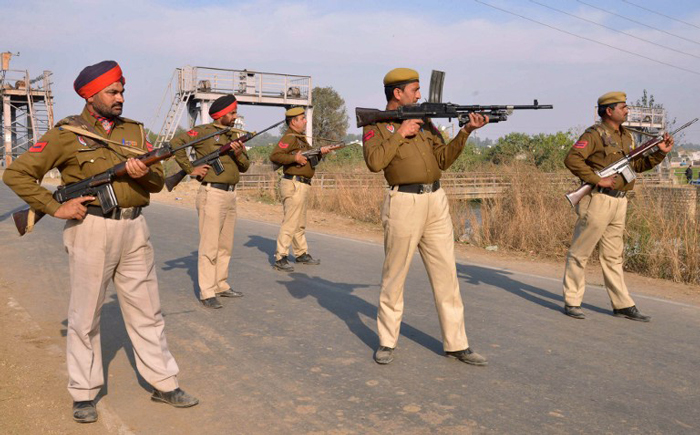 . An unspecified number of people have been arrested and raids were carried out in Gujranwala, Jhelum and Bahawalpur districts.. IB, ISI and Military Intelligence personnel will be part of the probe team. India has linked foreign secretary-level talks to Pakistan\'s action on Pathankot.
Pakistani authorities carried out raids at different places following attack on the Pathankot airbase in India, leading to some arrests, intelligence officials said on Monday.
They said that raids were carried out in Gujranwala, Jhelum and Bahawalpur districts and an unspecified number of people were arrested.
"Probe has been going to ascertain if they were involved in the attack or some of them facilitated it," they said.
The arrests led Prime Minister Nawaz Sharif to order a joint investigation team of Intelligence Bureau(IB), Inter-Services Intelligence, Military Intelligence, Federal Investigation Agency and police to thoroughly probe the Pathankot attack links to Pakistan.
Sharif has already said that a transparent investigation will be made and those involved will not be spared.
On Monday, India linked the foreign secretary-level talks, scheduled for January 15, to Islamabad's decisive action on the Pathankot terror attack.
The foreign secretary-level talks between India and Pakistan won't happen if Pakistan does not act against the Pathankot attack masterminds, national security adviser Ajit Doval said on Monday.
The decision to form the JIT, comprising officials from Intelligence Bureau (IB), Inter-Services Intelligence (ISI) and Military Intelligence (MI), was taken at a high-level meeting chaired by PM Nawaz Sharif, the Express Tribune said.
Interior minister Chaudhry Nisar Ali Khan, national security adviser Lt-Gen (retd) Nasser Khan Janjua, Prime Minister's adviser on foreign affairs Sartaj Aziz, special assistant to the Prime Minister on foreign affairs Tariq Fatemi and finance minister Ishaq Dar attended the meeting.
Prime Minister Sharif "is taking an active role in getting to the bottom of the Pathankot incident," a Prime Minister's House source was quoted as saying by the paper.
"He also discussed the issue with army chief Gen Raheel Sharif and took him on board about the decision to form a JIT," the source added.
"This investigation will be a major test of the prime minister to move Pakistan-India relationship forward and to break the cycle of off-again on-again talks between the two neighbours," the source added.
In a pre-dawn attack on January 2, a group of heavily armed Pakistani terrorists, suspected to be belonging to Jaish-e-Mohammed outfit, struck at the Indian Air Force base in Pathankot.
Indian intelligence reports suggested that groups and people in Pakistan planned and executed the strike.
India has provided "specific and actionable information in this regard" to Pakistan.
The evidence is said to include some voice recordings and the cellular phone numbers of the attackers' handlers which were traced to Pakistan.
-PTI