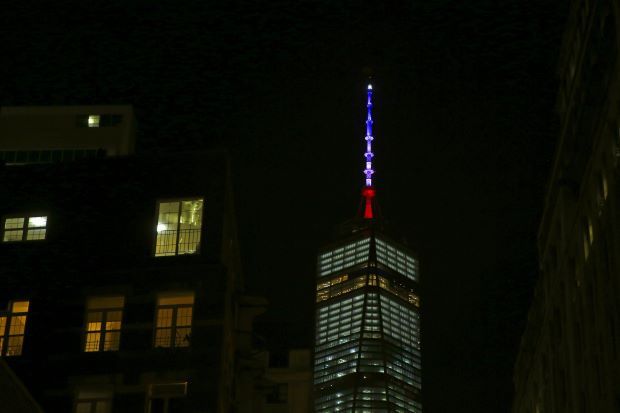 New York lit One World Trade Centre, the tallest building in America, red, white and blue in solidarity with France after attackers killed at least 120 people in Paris.
It was a powerful symbol of US friendship and support for the French, made from the tallest building in the US, which was built on the site of the 9/11 attacks on New York.
Its 124-metre spire is so large it can be seen across much of America's largest city and across the Hudson River in New Jersey.
"Today, and in the days ahead, New York will light One World Trade Centre in blue, white and red as we stand in solemn solidarity with the people of France," Governor Andrew Cuomo said.
"We join them in mourning those who were killed and in praying for those who were injured or lost loved ones. And we continue to stand side by side with them in our commitment to a free and peaceful world."
The French attacks are among the deadliest in the West since the September 11, 2001 terrorist attacks on New York, Washington and Pennsylvania.
Other US buildings also lit themselves in the colors of the French flag, including city hall in San Francisco and the Omni Hotel in Dallas, Texas.
Elsewhere in the city, French expats gathered in Union Square to express their solidarity with their compatriots.
Some of the 50 or so demonstrators carried handmade signs reading "Don't be afraid," and "Pray for Paris," as they stood together in silence.
"It's very hard not to be in Paris at this moment," said Anais Bourrut-Lacouture, 22, a business student.
Celebrated guerrilla artist Banksy on his Twitter account made a plea for "Peace for Paris, posting a painting in which the iconic lines of the Eiffel Tower were fashioned into a peace symbol. The image was re-tweeted thousands of times.
New York police meanwhile were on heightened alert, deploying counter-terrorism reinforcements to crowded places and outside the French mission to the United Nations, and the French consulate.
The New York police department said the reinforcements were made "out of an abundance of caution" to reassure the public.
-PTI