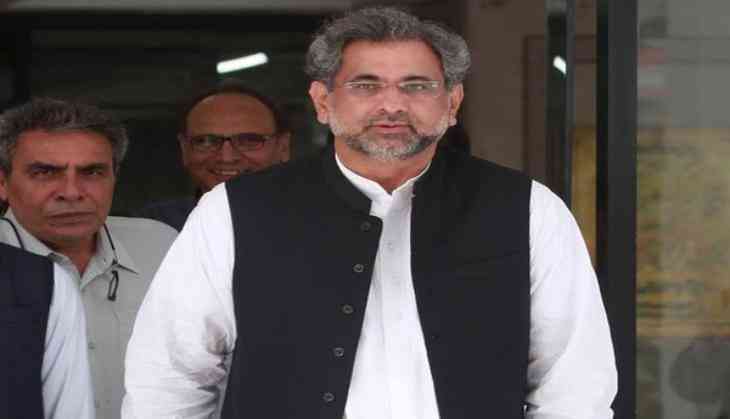 Pakistan Prime Minister Shahid Khaqan Abbasi's 46-member cabinet was sworn at a ceremony at the Presidency in Islamabad on 4 August morning.
President Mamnoon Hussain administered the oath to 46 members of the new federal cabinet comprising mostly old faces but with some reshuffled portfolios.Khawaja Muhammad Asif has been given the portfolio of country's new foreign minister whereas Ahsan Iqbal would be in charge of the key interior ministry in the government of Prime Minister Shahid Khaqan Abbasi.
The new cabinet was finalised after hectic consultations with PML-N supremo Nawaz Sharif, Premier Abbasi and Punjab chief minister Shehbaz Sharif in Murree that includes 28 federal ministers and 18 ministers of state.
Apart from retaining most members of the previous cabinet, the new cabinet includes six new federal and 12 state ministers. A new ministry of 'energy' will also be formed, Geo Tv reports.
Following the oath-taking, the new prime minister will chair the first session of his cabinet.
· Ahsan Iqbal -interior minister
· Khawaja Asif -Foreign minister
· Khurram Dastagir -defence minister.
· Pervaiz Malik will become minister for commerce.
· Senior PML-N leader Ishaq Dar will retain his previous portfolio as the finance minister.
· Arshad Laghari will be the state minister for industries and production
· Junaid Anwar will take oath as state minister for communication
· Talal Chaudhry will become the state minister for interior
· Marriyum Aurangzeb will retain her portfolio as state minister for information and broadcasting.
· Daniyal Aziz likely to be included in the cabinet as a state minister.
· Anusha Rahman will retain her portfolio as state minister for IT and Telecommunication
· Afzal Tarar will also retain her portfolio as state minister for health.
Mushahidullah Khan is likely to return to the cabinet. He had been expelled by Sharif for issuing a controversial statement accusing the ISI of sponsoring the Pakistan Tehreek-Insaf's sit-in in 2014.
-ANI