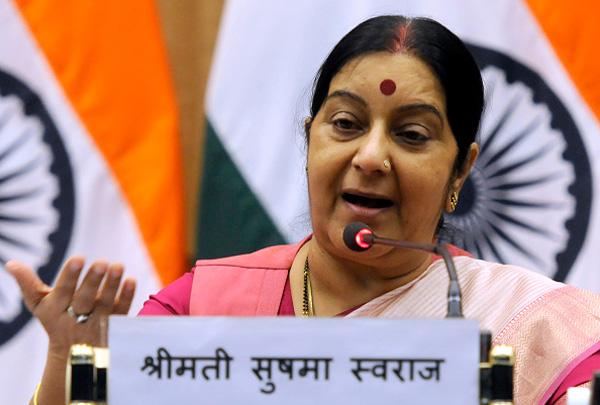 Pakistan has invited Indian Foreign Minister Sushma Swaraj to a significant regional conference on Afghanistan to be held in Islamabad in December.
According to The Express Tribune, the move by Pakistan comes at a time when the relations between the two countries are tense.
The frosty ties between India and Pakistan may begin to thaw if New Delhi accepts the invitation.
A senior Foreign Office official from Pakistan said that a formal invitation had been sent to India and 25 other countries for the Heart of Asia ministerial meeting on Afghanistan to be hosted by Pakistan.
The conference will be held in Islamabad on December 7 and 8.
Other countries which are expected at the conference include representatives from immediate and extended neighbourhood of Afghanistan, including Azerbaijan, China, Iran, Kazakhstan, Kyrgyzstan, Russia, Saudi Arabia, Tajikistan, Turkey, Turkmenistan and the UAE.
An anonymous Indian diplomat said that New Delhi has received the invitation but said the decision on whether the External Affairs Minister will attend the conference is yet to be taken.
The Heart of Asia Conference is primarily convened to discuss the current situation in Afghanistan with particular focus on helping the war-torn country's economy.
-ANI