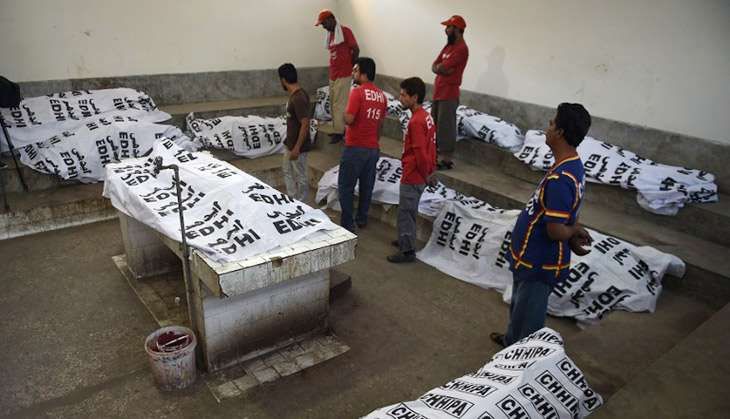 At least 11 people, including three women, were suffocated to death and 75 others injured on 5 December when a pre-dawn fire ripped through a four-star hotel in Karachi, the fourth blaze to hit Pakistan's largest city in the last two weeks.
The blaze broke out in the kitchen located in the ground floor of the Regent Plaza hotel at the city's Shahrah-i-Faisal area and spread across the six-floor building, trapping nearly 100 hotel guests in their rooms.
Three fire tenders of the fire brigade reached the site and started an operation to rescue the guests. The firefighters were able to contain the fire after three hours, with 11 people having been killed, said Faisal Edhi of the Edhi Foundation.
Mayor of Karachi Waseem Akhtar visited the site of the incident and while talking to media, he said the fire has been contained but the cause of the fire could not be determined as of yet. He said rescue work was hampered due to absence of an emergency exit and spread of heavy smoke.
At least 75 people affected by the fire were brought to the emergency department, Dr Seemin Jamali, head of the emergency services at the Jinnah Postgraduate Medical Centre, was quoted as saying by Dawn.
Amongst those were people who had fractured bones after jumping from hotel windows to escape, others had been hurt by shattered glass and many were treated for smoke inhalation, she said.
She confirmed the death toll and said the victims suffocated to death.
"Those killed include four women and seven males while the injured include some foreigners as well," she said. The rescue operation has not ended, and some people are still reportedly trapped inside the hotel. The cause of fire is yet to be ascertained.
Pakistan cricketer Sohaib Maqsood was present in the hotel at the time of the incident. Another cricketer Yasin Murtaza jumped from the second floor to the ground and fractured his ankle. Karamat Ali was injured by broken glass, according to sources.
"The casualties could have been higher had it not been for the prompt response of the fire department and other rescue officials," IG Sindh, AD Khawaja said.
The official said that fire-fighters had managed to put out the fire after nearly three hours as it spread rapidly to floors housing guests who were trapped inside their rooms.
Sindh Chief Minister Syed Murad Ali Shah ordered an inquiry into the fire while Prime Minister Nawaz Sharif also expressed his condolences over the incident.
--PTI