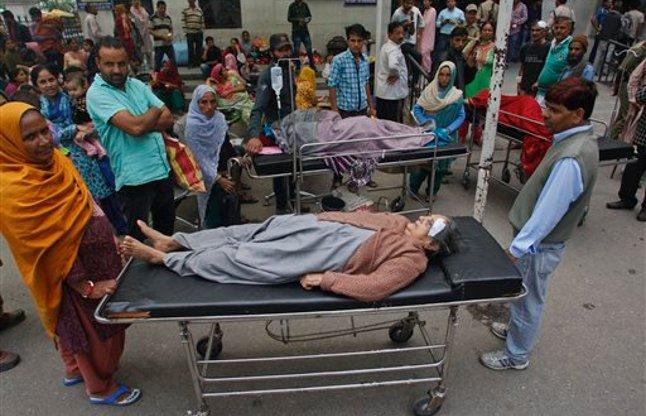 The death-toll following the 7.5 magnitude earthquake that hit north-eastern Afghanistan yesterday, has climbed to over 300 people, mostly in Pakistan.
The earthquake epicentred in the Hindukush mountain range in Afghanistan struck at around 2.40 PM, sending shockwaves across several states in North India.
The US Geological Survey originally said the quake had a 7.7 magnitude, but later downgraded it to 7.5. It said the quake was 120 miles deep and centred 51 miles south-east of Feyzabad in a remote northern area of Afghanistan in the Hindu Kush mountain range.
The tremors lasted for more than a minute and people were seen evacuating buildings as a safety measure.
In Pakistan, the death toll has risen to at least 253, in the northern mountainous areas. In Khyber Pakhtunkhwa province alone, authorities said at least 179 people were known to have died, and more than 1,800 were injured.
Deaths and injuries have also been reported in the Afghan provinces of Takhar, Nangarhar, Badakhshan and Kunar, with at least 82 killed in total. At least 12 of the victims were Afghan schoolgirls killed in a crush as they tried to get out of their building in Takhar province.
The death toll is set to rise as the most severely affected areas are very remote and communications have been cut off.
In Jammu and Kashmir, a teenager was fatally hit by a rock in Jammu region and two elderly women died of heart attack in Kashmir as the massive earthquake hit the region.
Several residents were injured, scores of houses, bridges and roads developed cracks and communication system collapsed temporarily in the aftermath of massive tremor.
Prime Minister Narendra Modi called Chief Minister Mufti Mohammad Sayeed yesterday evening to enquire about the situation following the massive earthquake.
Sayeed has directed the Divisional commissioners to monitor the situation and ensure immediate relief to the affected people. The authorities have also set up a control room at civil secretariat to monitor the situation.
President Pranab Mukherjee and Prime Minister Narendra Modi have offered assistance to Afghanistan and Pakistan. They expressed deep concern over loss of lives and destruction of property due to the powerful earthquake.
-ANI