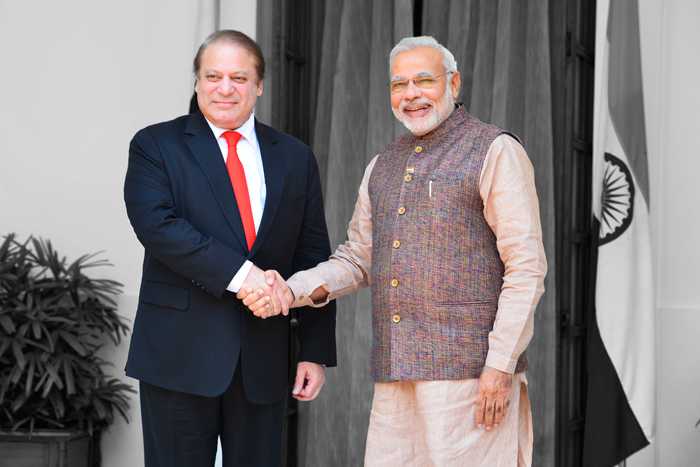 As Prime Minister Narendra Modi headed to Lahore on his first official visit, a surprise move to meet Pakistan Prime Minister Nawaz Sharif on his birthday, opposition parties had mixed reactions.
Congress spokesperson Manish Tiwari reacted to Modi's surprise visit and tweeted saying, "PM's misadventure to Lahore is worst manifestation of Spectecalisation of Diplomacy Last time Vajpayee went to Lahore Kargil!this time what?"
Jammu and Kashmir National Conference leader Omar Abdullah also welcomed the prime minister's gesture and tweeted, "The re-engagement with Pakistan is a good step & a very welcome development. However more than grand gestures we need consistency."
Abdullah also added, "Indo-Pak relations have been plagued by knee-jerk reactions & a lack of consistency. Looking towards two PMs to correct this this time."
Senior AAP leader Ashutosh said it was BJP and Modi who were opposing talks with Pakistan under the pretext of terrorism. He questioned whether terrorism has completely stopped as Pakistani premier Nawaz Sharif has now become a likable figure to Modi.
"It's BJP/Modi who has been opposing talks with Pakistan during the time of (former Prime Minister) Manmohan Singh under the pretext of Pakistan-sponsored terrorism. What has changed now? We have always been saying (that) engagement with Pakistan is needed but BJP was opposing. Now they should explain - itna yaarana kyon lag raha hain Modi ji (why so much friendship)," Ashutosh tweeted.
CPI(M) Politburo member Md Salim welcomed Modi's PAk visir and tweeted, "We want consistent, regular dialogues and more people-to-people contact essential for lasting peaceful legacy. Negates hate-mongers and terrorists."
"As a Leftist, I welcome any step towards peace and cooperation with Pakistan. We should move beyond photo-ops and personal bonhomie," he added. Meanwhile, earlier in the day, the CPI-M leader said he hoped that the Indian prime minister would tell the nation as to what transpired during his meeting with his Pakistani counterpart.
The CPI, on the other hand welcomed prime minister's decision to visit Lahore to meet his Pakistani counterpart, saying it would help take forward the Indo-Pak dialogue process.
"There have been many strains in our relationship. The ice was finally broken by the NSA-level talks and the visit of External Affairs Minister Sushma Swaraj to Pakistan. Now that process is being followed up by Modi's visit," CPI National Secretary D Raja said.
The JD(U), led by Nitish Kumar said it was "stunned" by the decision, especially in the wake of violations by the neighbouring country on the border, including the beheading of an Indian jawan. The party said that "friendship and betrayal cannot go hand in hand" as it reacted sharply to the surprise announcement by Modi as he prepared to wind up his brief visit to Afghanistan today.
JD(U) leader KC Tyagi said, "I am stunned and shocked. At this moment, I can think of beheaded Hemraj". Lance Naik Hemraj was killed and beheaded by Pakistani soldiers on January 8 last year in the Poonch sector of Jammu and Kashmir. That incident and a series of ceasefire violations plunged India-Pakistan ties to a new low that year.
-PTI