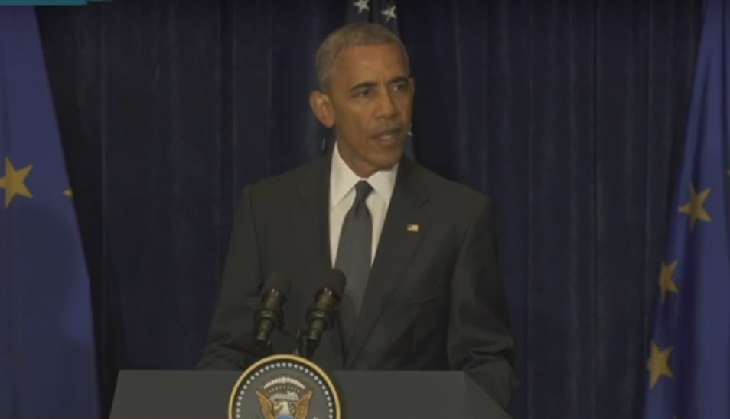 United States President Barack Obama issued a statement on the horrific Dallas shooting that took place on 8 July, calling the attack a vicious, calculated and a despicable crackdown on law enforcement in America.
Condemning the attacks, Obama stressed on the fact that the officers on duty were doing their job and ensuring safety during a peaceful protest when the attackers opened fire, targeting police officials. The snipers shot at 11 police personnel, claiming the lives of five and leaving six others wounded.
"I believe that I speak for every single American when I say that we are horrified over these events, and that we stand united with the people and the police department in Dallas", he said.
Speaking about the perpetrators of the attack, Obama said that there is more to be learnt about their 'twisted motivation'. He said there is no possible justification for the attacks or any violence against law enforcement.
Here is an excerpt of President Obama's statement issued from Warsaw, Poland, where he was attending the NATO Summit:
Snipers unleashed their attack on police personnel who were on patrol during a peaceful protest march in downtown Dallas, where hundreds had gathered to voice their outrage over the racially motivated killings of Alton Sterling and Philando Castille - on 5 July and 7 July respectively.
Condemning the unprecedented attacks that law enforcement officers inflict on people of colour, President Obama had issued a statement on 7 July, acknowledging the fact that racially motivated attacks pose a serious threat, and urged communities to address the underlying fissures that lead to these incidents.
Here is the copy of the statement issued by President Obama on 7 July on Facebook:
Read @POTUS's statement on the fatal shootings of Alton Sterling and Philando Castile: https://t.co/K313srpinP pic.twitter.com/rVj40rHRKE

— White House Archived (@ObamaWhiteHouse) July 7, 2016