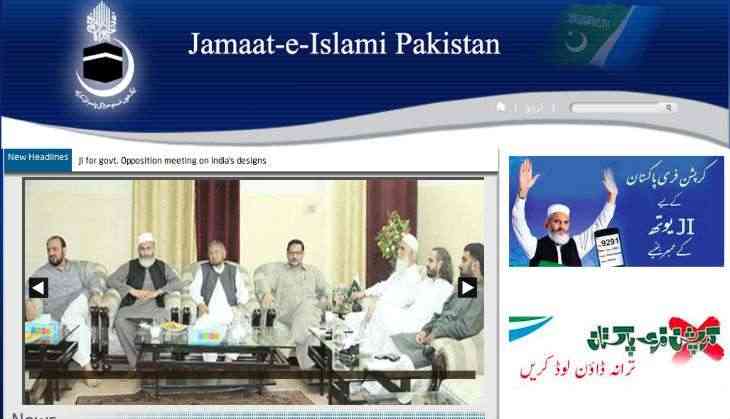 Latest update: Facebook has now restored Jamaat-i-Islami's official page.
Facebook also appears to be isolating Pakistan after the 18 September Uri attack. The social media giant has removed the official page of Pakistan's Jamaat-i-Islami party, after the political outfit posted provocative content on the unrest in Kashmir Valley.
The social media head of the party, Shamsuddin Amjad, said that the FB page was removed on Wednesday evening. Two more pages of the party were also removed from FB in the last two days. "The party pages representing Jamaat's zonal sections Khyber Pakhtunkhwa and Women Wing were removed on Tuesday," Amjad told Dawn.com.
FB also suspended around 24 personal accounts of admins of the Jamaat's official page.
Also Read: Uri aftermath: Now Pakistan threatens to use nukes against India
According to a statement from the party, Jamaat-i-Islami's facebook page had more than three million FB 'likes' and was apparently the second most liked page of any local political party.
Founded in 1941 in Lahore, Jamaat-i-Islami is one of the oldest political party of Pakistan. The party is headed by Siraj-ul-Haq.
The Indian Defence Wire tweeted:
Facebook takes down Jamaat-i-Islami's FB page for lionizing HM terrorist Burhan Wani. They have declared cyber-war against FB #SAARCscrapped

— Indian Defence Wire (@IndDefenceWire) September 28, 2016
Responding to it on Twitter, one Pakistani citizen wrote:
#Facebook is a lie...#IndianOccupiedFBhttps://t.co/cuenAKr2WE

— Sherlock Holmes (@WhoWillTweeet) September 28, 2016
On 18 September, terrorists attacked the Indian Army base at Uri in Jammu and Kashmir area, resulting in the death of 18 soldiers. The Uri attack came amidst the dragging unrest and violence in Kashmir Valley, that left about 90 people dead, since the killing of Hizbul Mujahideen militant Burhan Wani on 8 July.
The party's facebook page apparently contained provocative images and videos of unrest from the Valley.
Meanwhile, four nations out of the eight-member South Asian Association for Regional Cooperation (SAARC), decided to pull out of the summit, citing increasing terrorism in the region.
Also Read: SAARC summit unlikely after 4 nations pull out citing terrorism