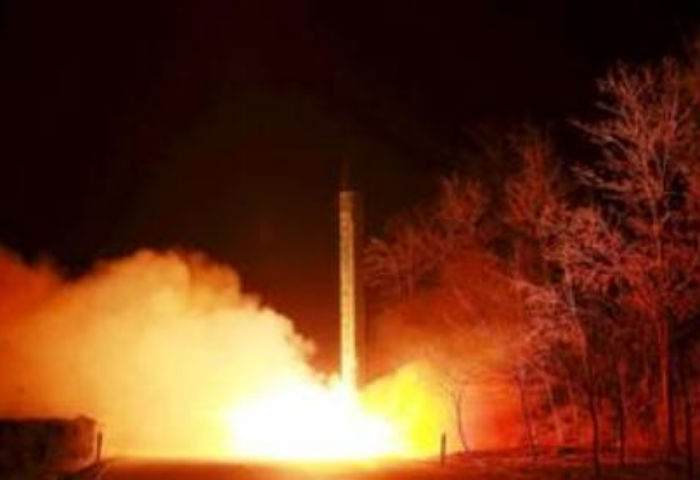 North Korea has fired two medium-range ballistic missiles into the sea, US and South Korean officials have confirmed.
Officials said the missile - that was launched off the east coast - flew about 800km (500 miles) and fell into the water.
North Korea has not commented on the reports yet. But Al Jazeera quoted military officials from South Korea said the first missile was launched from Sukchon in the country's southwest at 5:55AM on 18 March and flew 800 km before crashing off into the East Sea, also known as Sea of Japan.
The second, fired about 20 minutes later, disappeared off the radar early into its flight.
Both missiles are believed to be medium-range Rodong missiles fired from road-mobile launch vehicles.
The launches came amid heightened tensions on the Korean peninsula after North Korea rejected the United Nations Security Council (UNSC) sanctions imposed earlier in March in response to a nuclear test conducted in January.
United States President Barack Obama earlier imposed new sanctions on Pyongyang after its recent 'illicit' nuclear test and satellite launch. The 6 January nuclear test and 7 February satellite launch were violations of existing UN sanctions.
With a maximum range of 1,300 km, the Rodong would have the capability to reach all of South Korea and parts of Japan.
Moreover, North Korea has threatened to launch a 'pre-emptive nuclear strike of justice' against the US and South Korea.
Last week, Pyongyang fired two short-range missiles into the sea off its east coast and its leader Kim Jong-un ordered more nuclear weapons tests and missile tests to improve attack capability.
The US State Department said that it was closely monitoring the situation and urged North Korea to refrain from any actions which could 'further raise tensions'.
South Korea also condemned North Korea's move, calling it a direct challenge to the UN Security Council and the international community, while Japan lodged a protest through its embassy in Beijing.
-ANI