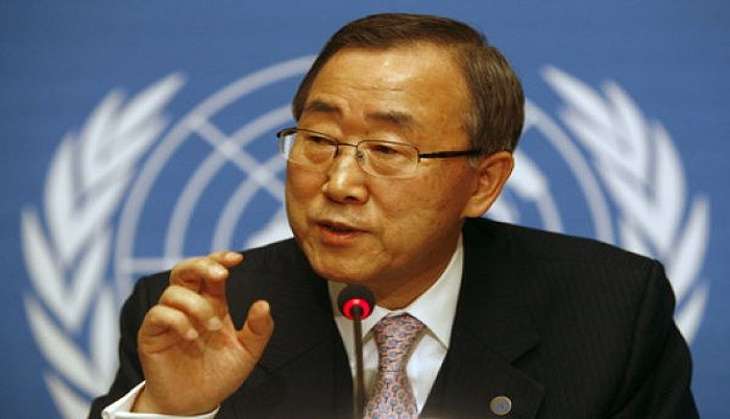 The Kashmir row failed to find mention in UN secretary-general Ban Ki-moon's speech at the General Assembly, despite Pakistan's repeated requests.
In his opening statement, Ban Ki-moon spoke about areas of concern in the world like Syria and West Asia but did not include India-Pakistan or Jammu and Kashmir.
Pakistan PM Nawaz Sharif is expected to make an impassioned speech against India at the gathering.The UN face-off will kick off with Sharif 's speech at the UNGA on 21 September.
Another early diplomatic success by India at the UN was the acceptance of the India-sponsored Comprehensive Convention on International Terrorism (CCIT) by the BRICS group in the UN. This is the first time a powerful grouping called for its early acceptance by the global community, reports The Times of India.
External affairs minister Sushma Swaraj will lead India's diplomatic offensive against Pakistan at the UN General Assembly on 26 September in the wake of the terror attack at an army base in Kashmir's Uri region.
On 19 September, Minister of State for External Affairs M J Akbar touched upon terrorism in his speech on migrants and refugees. "It is important to stress that today the geo-politics of the crisis points and proves that terrorism is the principle cause of refugee movements. Can we ignore this fact? We cannot. We do so at our peril," he told the Times of India.
"There is no good terrorism or bad terrorism and if you do not know the answer to this question, all you have to do is ask the refugee if he considers any terrorism to be good or bad."
Afghan envoy to India Shaida Abdali told NDTV on 20 September that it is time to send a decisive message to Pakistan by a mass boycott of the November Saarc summit. "We have to make sure we bring on board the maximum number of countries and I am sure most South Asian countries are in line with what we think. Therefore, the effort should be comprehensive and we should single out a country that spoils our unity, that spoils regional peace," he was quoted.
Abdali said, "This is an issue of state-sponsored terrorism. It is no more an issue of non-state actors that we have been hearing about. Now we have ample proof of state sponsored terror."