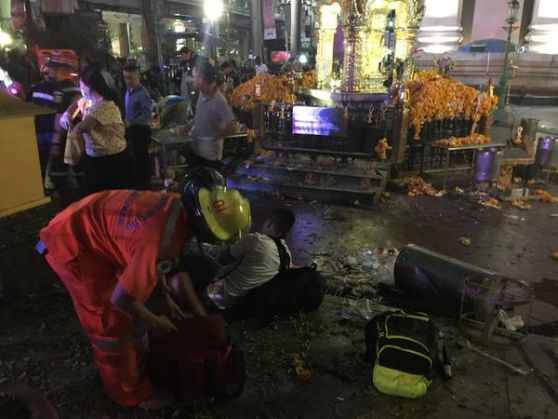 After prolonged investigations into the bomb blasts on 17 August in Erawan shrine near Chidlom district, a hub for tourist activities, Thailand's government has released a statement ruling out involvement of any international terror group including the Uighurs.
Col Winthai Suvaree, a spokesman for the ruling military junta has stated that the preliminary conclusion reached by investigators ruled out any external terror angle.
The attack on the Erawan Shrine in central Bangkok on 17 August evening has killed 20 people and injured many. According to officials, at least 10 people are suspected of involvement in the attack.
"The attack was planned at least a month in advance," said National police chief Somyot Pumpanmuang as reported by BBC.
Meanwhile, Thai police officials are still on the look out for three men visible in security camera footage at the shrine and have also issued an arrest warrant. Interpol has been asked to step in and help with the investigations.
Police on the lookout for two suspects
Thailand Police are looking for two more men in the investigation of the bombing outside the Erawan shrine.
Police Lt Gen Prawut Thawornsiri, assistant national police chief, gave the media a screen capture from a grainy CCTV that shows the two men, who police say were standing close to the main suspect, the "man in the yellow T-shirt" strongly suspected of planting the bomb. The two are described by police as persons of interest.
The suspect
Police have expanded on their description of Thailand's most-wanted man, saying the suspected bomber was "Caucasian, Arab or mixed race", aged 20 to 30 and about 170cm (5-foot-7) tall.
Police ask Interpol to help track bomber suspect
Authorities have asked Interpol for help in tracking down the man they believe planted the bomb in the Erawan shrine that killed 20 people, sending the international police organisation an image of the suspected bomber.
Police officials suspect that the young man caught in grainy footage leaving a backpack at the crowded shrine shortly before the explosion is foreign, but Pol Lt Col Kissana said Thai police were not focused on any particular country or region with their appeal to Interpol.