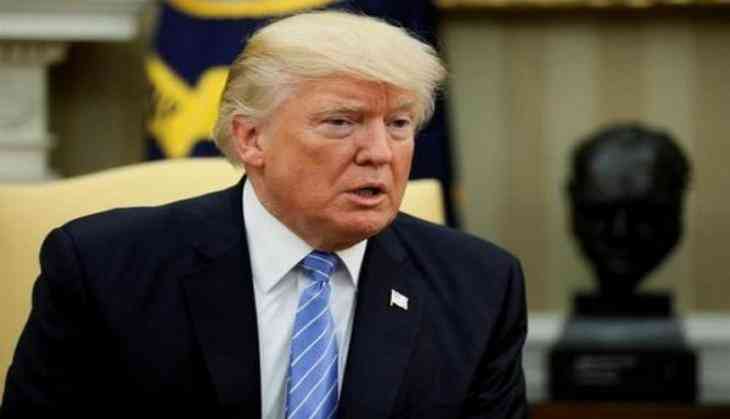 Upon landing his foot on the Japanese soil, United States President Donald Trump indirectly launched a scathing attack at North Korean leader Kim Jong-un by saying that "no dictator" should underestimate America.
"No dictator, no regime, no nation should ever underestimate American resolve," The Japan Times quoted Trump as saying to hundreds of cheering U.S. and Self-Defense Force service members in camouflage uniforms gathered at Yokota Air Base, on the outskirts of Tokyo.
"Every once in a while, in the past, they underestimated us. It was not pleasant for them, was it?" said Trump.
With his visit to Japan on Sunday, President Trump kicked off the first leg of his 12-day trip to Asia.
Trump also praised the US-Japan military alliance and thanked the US troops for keeping all safe and boosted the country's military ability.
He will meet with Japanese Emperor Akihito and Empress Michiko and conduct working meetings with Prime Minister Shinzo Abe and other leaders to reaffirm America's unshakeable alliance with the country as they face the North Korean nuclear threat.
According to The Japan Times, Abe told reporters before Trump's arrival that he welcomed the visit as a chance to deepen bilateral ties by building upon the "friendship and trust" between the two leaders, fostered by several meetings that included a round of golf in Florida earlier this year.
Trump and Abe, who enjoy a close personal relationship, are scheduled to play golf with Japanese professional golfer Hideki Matsuyama at a country club just outside Tokyo before their dinner together.
The US President is also scheduled to meet relatives of some of the Japanese nationals abducted by North Korea in the 1970s and 1980s.
Trump's visit to Japan comes ahead of the annual leaders' summits of the Asia Pacific Economic Cooperation forum and the Association of Southeast Asian Nations.
-ANI