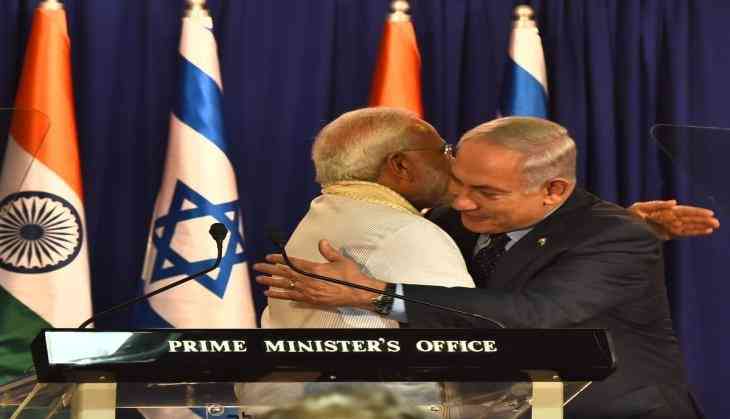 Netanyahu gifts PM Modi photograph
Israeli Prime Minister Benjamin Netanyahu gifted Indian Prime Minister Narendra Modi a framed photograph depicting Indian soldiers leading a British military column to liberate Jerusalem.
The gift was presented after the Israeli leader and his wife hosted a private dinner for the visiting dignitary at their residence Beit Aghion in Jerusalem on Tuesday night.
The photo depicts Indian soldiers leading a British military column to librate Jerusalem (December 11, 1917). pic.twitter.com/cgnZS590Iq

— PMO India (@PMOIndia) July 5, 2017
Meanwhile, Prime Minister Modi gifted his Israeli counterpart replicas of two sets of relics from Kerala, regarded as key artifacts of the long Jewish history in India.
They comprise two different sets of copper plates that are believed to have been inscribed in 9-10th Century.
Prime Minister Modi, who is on a Israel visit, on Wednesday met with 2008 Mumbai terror attack survivor Moshe, his nanny who rescued him and his other family members.
Prime Minister Modi also promised a long term visa for Moshe and his family whenever they wish to travel to India.
Netanyahu, who was present at the event, put forth the proposal of Moshe travelling with him to India whenever he goes there on an official visit.
Moshe's parents, father Gavriel Holtzberg and mother Rivka, were killed in an attack on the Chabad centre, a Jewish community centre in Mumbai, but their infant son, Moshe escaped in the arms of his Indian nanny, Sandra Samuel. The two now live in Israel.
In his 48-hour visit, Prime Minister Modi, who is the first Indian prime minister to visit Israel, is attending 18 programmes in Israel.
These programmes include bilateral meetings, mega Community Programme, meeting top Israeli CEOs, NRIs, students.
Today, the Indian leader met with Israeli President Reuven Rivlin, who broke protocol to receive Prime Minister Modi and welcome him.
-ANI