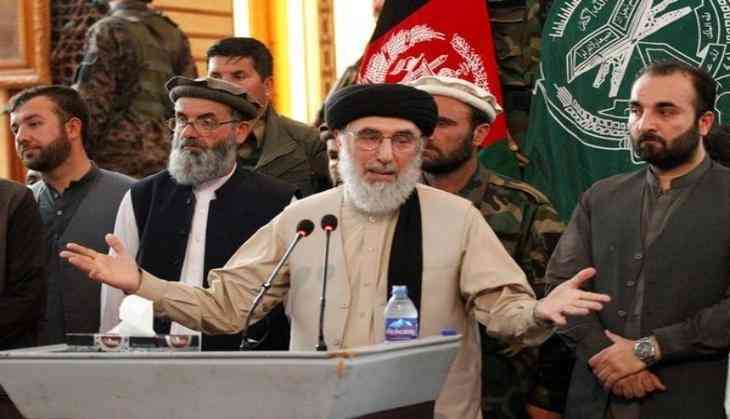 Without naming Pakistan, Hezb-i-Islami leader Gulbuddin Hekmatyar, on 7 june said our neighbors must not support the war in Afghanistan and must fight terrorism.
Commenting on the ongoing war in Afghanistan, he said the reason is that people want to take power by force. Hekmatyar said "our neighbors must not support the war in Afghanistan and must fight terrorism".
The Afghan Ministry of Interior has revealed that Pakistani spy agency ISI had supplied explosives to the Haqqani network and that the material used was highly flammable. This was found during the initial investigations into the June 1, 2017 deadly truck bombing near Kabul's Zanbaq Square that killed more than 150 people.
" Pakistan is the key planner of this incident like in the past, but our security team is investigating it and it has not been completed," Tolo News quoted Ministry of Interior spokesman Najib Danish, as saying.
Hundreds of demonstrators took to the streets of downtown Kabul in a bid to march on the Presidential Palace; they had been protesting against May 31 massive truck bomb blast
in the Kabul city that killed over 150 people.
"Hizb-e-Islami accepts the system as it is and encouraged the nation to do the same,"Tolo News quoted Hekmatyar as saying.
Hekmatyar told protesters that, "he will not allow anyone to bring down the Ashraf Ghani government as he duly supports the system".
He said, "A public demonstration was within the rights of every Afghan, but that any move to close roads or to overrun the Presidential Palace, especially by armed protestors, was not acceptable".
Addressing a press conference in Kabul, Hekmatyar said, "those who want to change the system must ask themselves what the alternative is and whether they are able to run the country. No one can take power by force. Every Afghan has the right to make demands but not to close roads."
Hekmatyar says, "some circles have started a campaign against them but he has asked his supporters not to take action against them."
The statement by Hekmatyar assumes much significance, as he returned to Kabul after 20 years, and will be participating in the next parliamentary elections, but no decision has been made in terms of taking part in the presidential elections.
On the issue of parliamentary elections, Gulbuddin Hekmatyar, head of Hizb-e-Islami said, "he hopes that this (parliamentary elections) goes ahead soon in a transparent manner and within the budget, so that the reforms can be made.
He said, "If Hizb-e-Islami does nominate a candidate for presidential elections, they would prefer to have a candidate that is accepted by all the people."
-ANI