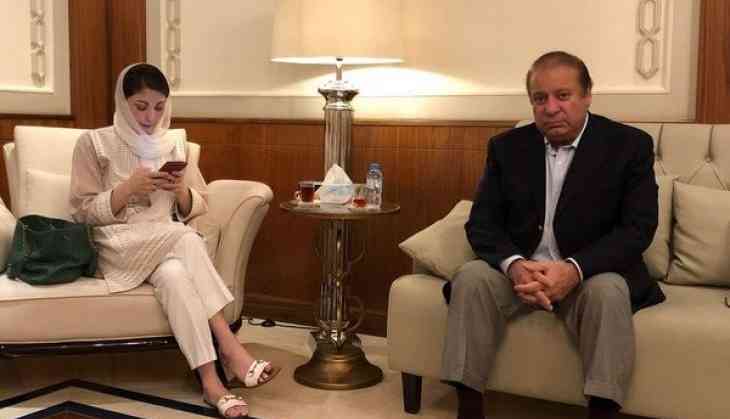 Former Pakistan Prime Minister Nawaz Sharif and his daughter Maryam Nawaz on Friday landed at Abu Dhabi aiport and were taken to a hotel.
Contrary to the media reports from Pakistan that Sharif will be arrested from the airport itself and brought to Lahore, Pakistan's former PM and his daughter walked out of Etihad Airlines and went to a hotel to take rest during their six hour lay-off. Their next flight to Lahore was scheduled for 2. 15 pm (UAE time) There were media reports from Pakistan that the flight has been delayed by two hours.
At Abu Dhabi airport, Nawaz and Maryam were recieved by officials from the United Arab Emirates government. Sharifs were taken through a seperate route from the aerobridge itself and driven out of airport in two Mercedes cars. According to the Pakistan Muslim League-Nawaz (PML-N) sources, both father and daughter had gone to a hotel near the airport where they held consultations with party workers among others. Sharif also addressed media from the hotel room through a telephonic conference.
Sharif and Maryam are expected to board a flight to Pakistan with a National Accountability Bureau (NAB) team onboard. The team will take the two in their custody once the plane will enter Pakistan fly zone. The PML-N sources said the report of Sharif's detainment was floated on media to humiliate and harass his family.
Meanwhile, at Abu Dhabi Maryam took to her Twitter handle to react on the situation and with a picture of his father tweeted: "So much fear, I have not even reached Pakistan."
اتنا خوف ؟ pic.twitter.com/Rl6nNyvyYv

— Maryam Nawaz Sharif (@MaryamNSharif) July 13, 2018
Maryam also changed the Display Picture of her Twitter handle with her father with a caption: "13 Friday, July Lahore." In Urdu it was written: "We are coming for the people of Pakistan."
A war of word is all set to break on Twitter after Imran's latest wife Bushra Khan in a threatening tone tweeted a picture of her husband captioned: "Main inko rulaoonga (I will make them (Sharifs) cry)".
On the other hand, security arrangements have been beefed up in Lahore ahead of Sharif and Maryam's arrival. The two are expected to land at the Allama Iqbal International Airport at 6:16 pm today (Pakistan time).
According to the Dunya News, security agencies and traffic police have worked out plans to execute an effective security strategy, ahead of father-daughter duo's arrival in the city. Baton holding soldiers of Pakistan Rangers and state police were deployed all along the national highways to prevent crowd from pouring in to Lahore. Mobile services too were suspended in the Lahore area.
Three-time Prime Minister Nawaz Sharif was convicted in absentia last week for a corruption scandal and sentenced to 10 years imprisonment, while his daughter, Maryam, was handed an eight-year jail term in the same case. The father-duo was in London where Sharif's wife Kulsoom Nawaz is undergoing treatment for cancer. Both will be arrested on their arrival at Lahore airport, from where they will be taken to Islamabad by a helicopter. They will be lodged in Adiala jail, reported The Dawn. NAB sources in Islamabad said that both the convicted would be kept at Adiala jail for a day before being transferred to the notorious Attock Fort Prison.
In April, Pakistan's Supreme Court disqualified Sharif from contesting elections for the rest of his life because of his corruption cases as revealed in the Panama Papers. Sharif had stepped down as Prime Minister in July last year after the country's apex court disqualified him from office over undeclared assets.
--ANI