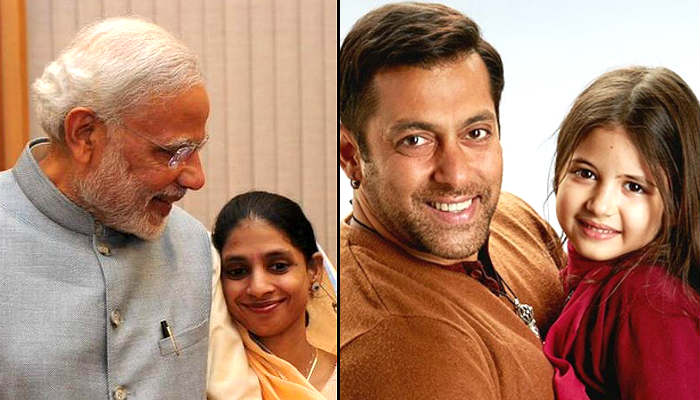 * So Bajrangi Bhaijaan evidently did what years of jaw-boning couldn\'t.* It paved the way for the human factor to make an appearance in Indo-Pak relations.* And it seems to have influenced our foreign policy as well! Read on to see how...
The human touch evidently works better than just pure natter. Just when one thought that Indo-Pak relations were hitting an all-time low, it took a film, and the exchange of one person each from either country to slowly thaw the ice.
In fact, this has also been recognised by the powers that be. The newly christened Comprehensive Bilateral Dialogue has two new pillars, humanitarian issues and religious tourism. Minister of External Affairs, Sushma Swaraj also endorsed it as she addressed reporters after the talks in Islamabad.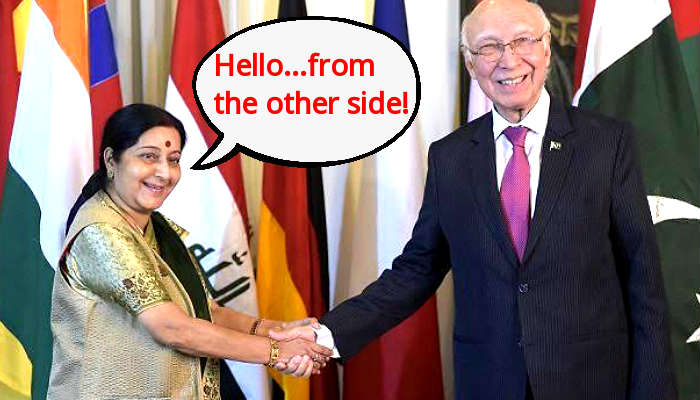 From reel to real
Bajrangi Bhaijaan, one of the biggest blockbusters of 2015, was a refreshing break from the usual angry-jingoistic Bollywood movies. Moreover, it framed a rather pleasant picture of Indo-Pak relations at its most tumultuous time.
It was just after the release of the movie that Geeta, the speech-impaired Indian girl stuck in Pakistan for 14 years came into the limelight and was dramatically reunited with her family in India.
As a 'return gift', India decided to send back Karachi's runaway boy, the 15-year-old Mohammad Ramzan, who was separated from his mother when he was 10 and his father Mohammad took him to Bangladesh.
The human factor
The stories of Geeta and Salman have paved the way for a humanitarian dialogue between the two countries.
Geeta was nine when she crossed into Pakistani territory. Personnel of the Punjab Rangers took her to a social welfare organisation, the Edhi Foundation, in Lahore. She soon moved to a home in Karachi.
It was there that Ansar Burney of the Edhi Foundation took up her cause and struggled to reunite her with her family.
India returned the friendly gesture with the decision of sending Salman back to his country. The case came to light when Ramzan's mother, Razia Begum, after learning that her son is in India, contacted Pakistan human rights activist Ansar Burney with a request for his release and return. She also uploaded a video, appealing to the Indian government to send her son home.
Cultural exchange
Culture smoothens the path to unity. Considering the fact that India and Pakistan have similar cultural backgrounds, the two countries can further build upon the relations.
A number of Indian schools, colleges and universities have exchange programmes for students across the border which are really proving to be fruitful as the younger generation now has the opportunity to observe and appreciate the neighbouring country.
In fact, the influx of Pakistani stars like Fawad Khan, Mahira Khan and Imran Abbas into Bollywood and the musical collaboration between artists from both the countries has brought a breath of fresh air to the Indo-Pak bilateral relations.
And how can we miss Zindagi Channel? This channel single-handedly gave us a sneak peak of Pakistani culture. Right from the language - a delectable Urdu - to various fashion statements, it has the Indian audience rivetted to a way of life which was novel for it.
Religious tourism
If religion can divide, it can also unite. Sant Kabir
and Baba Bulleh Shah are prime examples. Sikhs visit various gurudwaras in Pakistan, and some Hindus get pilgrimage visas to Hinglaj Mata and the Katas Raj temples in Pakistan as well.
We are likely to see more shrines added to the list on both sides, and perhaps the number of pilgrimage visas issued may go up. Greater religious tourism across this bloodied border will show more people how inter-twined the two countries are.