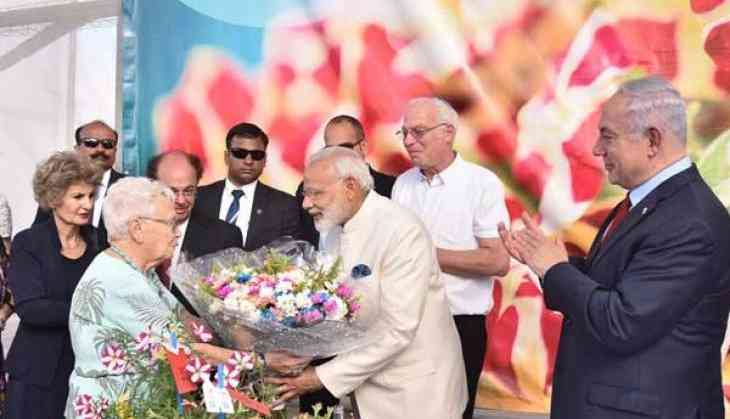 A new fast-growing Israeli Chrysanthemum flower has been named after visiting Indian Prime Minister Narendra Modi to honour him.
"Crysanthumun flower will be named in honour of PM @narendramodi. The flower will be called 'Modi'," tweeted the PMO.
Crysanthumun flower will be named in honour of PM @narendramodi. The flower will be called 'Modi.' pic.twitter.com/4qLALtxHzP

— PMO India (@PMOIndia) July 4, 2017
Prime Minister Narendra Modi after arriving in Tel Aviv on Tuesday visited the Danziger Flower Farm.
At the farm, the two leaders were briefed about the research technologies being used there for floriculture. Cutting-edge agricultural technologies of Volcani center (the research arm of Ministry of Agriculture) were also displayed and explained. These include remote sensing, GIS, and post-harvest technologies.
The first bunch of a Chrysanthemum flower named after Prime Minister Narendra Modi was presented to the him.
He, along with Israeli Prime Minister Benjamin Netanyahu, then visited Yad Vashem, memorial to the victims of the Holocaust, where Prime Minister Modi laid wreath to honour the victims.
Prime Minister Modi also signed the Visitors' Book at Yad Vashem.
Prime Minister Modi on Tuesday arrived at the Ben Gurion Airport in Tel Aviv where he was received by his Israeli counterpart in a special gesture.
Prime Minister Netanyahu will also accompany the Indian leader to all programmes throughout the visit.
In his 48-hour visit, the Prime Minister Modi, who is the first Indian prime minister to visit Israel, is attending 18 programmes in Israel.
These programmes include bilateral meetings, mega Community Programme, meeting top Israeli CEOs, NRIs, students.
Tomorrow, the Indian leader will meet with Israeli President Reuven Rivlin, hold talks with Prime Minister Netanyahu and then attend an event organised by the Indian community in Israel in Tel Aviv.
On Thursday, Modi along with his Israeli counterpart, will visit Haifa cemetery, the cemetery of the fallen Indian soldiers in the first world war and place wreath on the grave areas.
From there, the duo will head for a field visit to see the Gal Mobile-integrated water purification vehicle designed to produce high quality drinking water. It can be used during times of disasters to provide drinking water.
-ANI