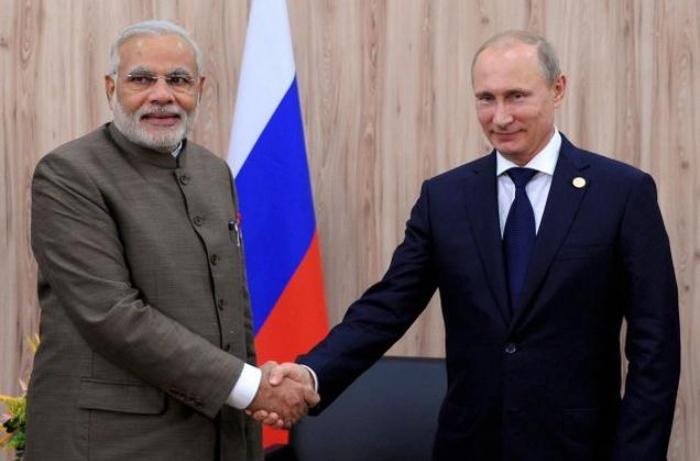 Prime Minister Narendra Modi and Russian President Vladmir Putin have met twice before their December 2015 visit - at the July 2014 Brics summit in Brazil and the G20 in Australia later that year.
"Modi and Putin get on very well together. Both ... are self-assured and charismatic leaders with a strong nationalist bent, who have a clear vision for their country and keep its best interests at heart," the Russia Insider quoted former Indian ambassador to Russia, Ajai Malhotra, as saying.
C Raja Mohan, a leading Delhi-based foreign policy analyst, said that, though there was a "lot of sentiment", there were some "big structural issues". He said:
"Both men are nationalists and realists, strong leaders who want to do as much as they can. They need to salvage what they can from this relationship".
Modi has also admitted that his political journey is similar to that of Putin's.
The similarities
Both Modi and Putin are charismatic leaders, who enjoy almost cult status in their countries. While Putin has key-chains, t-shirts and merchandise dedicated to him, Modi's face is branded on a number of things ranging from kites to Holi colours to souvenirs.
They share a similar rhetoric in terms of their plans for the nation. Both have almost identical nationalist ideologies and have promised to restore the former glory of their respective countries. Putin joined the KGB in 1975, five years after Modi joined the RSS. Both leaders choose to speak in their native tongue over English.

Putin's macho politician image is something Modi has also tried his hand at, albeit under the guise of tradition and leadership. Putin's gun-toting, horseback riding, tiger-taming macho muzhik is to Russia what Modi's chai-selling, chaste adarsh purush image is to India.

Putin is often projected to be a dictator, a label Modi's critics are quick to slap him with. Both have also been compared to Hitler in the past.
What Modi can learn from Putin
Putin enjoys the support of the Russian people. In the first eight years of his tenure, industrial input in Russia went up by 125 per cent - a complete turnaround of the economy. If Modi is eyeing another term or two, he needs to fulfil his ambitious election promises. Putin also managed to get rid of Russia's foreign debt, something India could do with.
Putin has proved to be an honest leader and his government is careful to keep their hands clean. While Modi may seem to have a strong anti-corruption stance, sadly corruption allegations dodge his party members, casting their long shadow on the Prime Minister.

Modi could also take a few lessons from Putin on forging better relations with Pakistan and China - something Russia seems to have learned well.

Putin's Russia is traditional but largely secular. People of different religios denomination live in a secure and tolerance. India has been reeling under allegations of religious intolerance, a cry that grew louder when the BJP ascended to power in May 2013.
What Putin can learn from Modi
Modi is big on proactive diplomacy. Not only has he visited over 20 countries in 2015 alone, but has also reached out to smaller nations like Seychelles and Mauritius.
While Modi's selfie diplomacy seems to be working in his favour, a few glimpses of Putin's teeth might just help to soften his public persona.

Modi makes it a point to reach out to the Indian diaspora - the sheer number of diaspora events he conducts is commendable - something Putin seldom does.

The issue of LGBT rights has always been a prickly one for Russia. The Modi government on the other hand, has recently spoken out in support of LGBT rights.

While we're at it, Putin could also take a lesson or two from Modi on how to command respect without resorting to photoops - like releasing tigers, paragliding, and going barechested at any given opportunity.- to add to his personality cult. That being said, Putin wouldn't really be Putin without some barechested-ness and daredevilry now would he?