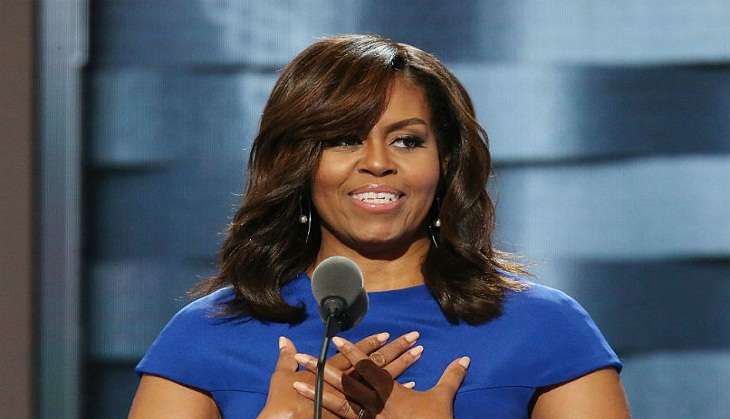 First Lady Michelle Obama brought the house down on the first day of the Democratic National Convention at Philadelphia. Days after Melania Trump had plagiarised a portion of her debut speech from 2008, on 26 July, Michelle Obama's oration brought those in attendance at the convention to their feet, in applause.
In her inimitable fashion, Obama endorsed Democratic Presidential candidate Hillary Clinton as the only person who could be trusted with being at the helm of the United States of America. Referring to Clinton as "the kind of president that I want for my girls and all children," Obama delivered an impassioned call to action to the nation's voters, stressing on the fact that Clinton is someone who never buckles under pressure. "She never takes the easy way out. And Hillary Clinton has never quit on anything in her life", she said.
In her capacity as First Lady, Michelle Obama's put her motherly instincts on display saying that the Presidential election is about choosing someone who would make the country a better place for the future generations, someone who could be entrusted with the role of shaping children of the nation for the coming years.
"And I am here today because in this election, there is only one person who I trust with that responsibility, only one person who is truly qualified to be President of the United States and that is our friend, Hillary Clinton", asserted Obama.
Grace personified, Obama took not-so-subtle jibes at the politics of Donald Trump, without ever taking his name. With reference to Trump's campaign slogan 'Make America great again', she said, "Don't let anyone ever tell you that this country isn't great, that somehow we need to make it great again, because this right now is the greatest country on earth".
She also took a dig at Trump's Twitter frenzy, saying that the country needs someone who takes the job seriously, and the issues that a President has to face "cannot be boiled down to 140 characters".
"Because when you have the nuclear codes at your fingertips and the military in your command, you can't make snap decisions," Obama said, making a very pertinent point. "You can't have a thin skin or a tendency to lash out. You need to be steady and measured and well-informed," she said.
While the first night of the Democratic National Convention saw reasonable disagreements within the Democratic faction, the single uniting factor was the unanimous appreciation for the First Lady's endorsement of Clinton.
President Barack Obama tweeted out his response to the First Lady's evocative speech, lauding her powerful words.
Incredible speech by an incredible woman. Couldn't be more proud & our country has been blessed to have her as FLOTUS. I love you, Michelle.

— President Obama (@POTUS44) July 26, 2016
Here's Michelle Obama's impassioned speech on the Democratic Convention stage: