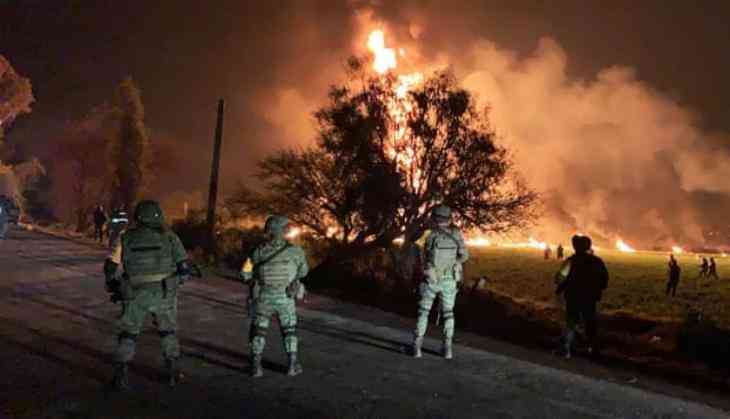 At least 20 people were killed after a fuel pipeline burst in central Mexico after it was raptured by suspected fuel thieves exploded as dozens of people were trying to fill up containers, the government of Hidalgo state said.
Around 71 people were left injured in the expolosion in Central Mexico. Mexican television footage showed flames leaping into the night sky in the municipality of Tlahuelilpan, in Hidalgo state north of Mexico City, as people shouted and cried for help, reported The Guardian.
"The preliminary report I've been passed is very serious, they're telling me 20 people have died, charred," Hidalgo state governor Omar Fayad told Mexican television. People were severly burnt from the blast, government had sent ambulance and doctors to treat the injured.
Separate television footage showed the pipeline gushing a fountain of fuel earlier in the day and people moving in with containers.
Sobrevolando el lugar de los hechos ocurridos en Tlahuelilpan. Estamos aplicando todas las medidas necesarias para atender a la población de la zona. pic.twitter.com/ptPGOGLbF5

— Omar Fayad (@omarfayad) January 19, 2019
According to StraitsTimes, state-run energy company, Pemex, said the explosion was caused by an illegal fuel tap at the Tuxpan-Tula pipeline. The explosion took place when the country has been plagued by fuel thefts, and Fayad called on Mexicans "not to be accomplices." He said the practice was not only illegal but "puts your life and families at risk."
Notably, Andres Manuel Lopez Obrador, Mexico's president has launched a major crackdown on fuel theft in the country, that has cost more than $3bn to the country last year, says government.
Also read: Cargo Plane Crashes: Military cargo plane crashes in Iran amid severe weather, 10 crew feared killed