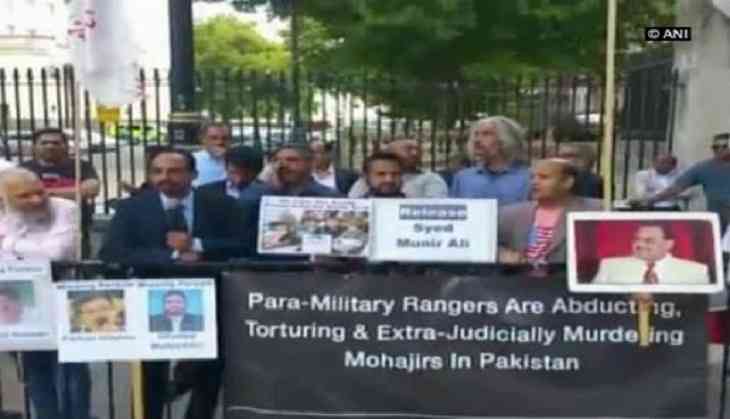 The Muttahida Qaumi Movement (MQM), Pakistan's Opposition party, held a demonstration here against Pakistan over human rights violation and extra judicial killings of the party workers.
Scores of people gathered here in protest and raised slogans holding placards against Pakistan.
'Stop Racism against Mohajir in Pakistan', 'Stop enforced disappearance of MQM workers', 'I.S.I is abducting Mohajir in Pakistan, Stop Mohajir Genocide in Pakistan', 'Para-military Rangers are abducting, torturing and extra-judicially murdering Mohajir in Pakistan,'- were some of the slogans written on the placard showcased by the protestors.
Earlier, the MQM staged a massive demonstration in front of the White House against enforced disappearances, paramilitary operation and extra judicial killings of its party members in Karachi, capital city of Sindh province.
A statement issued by the MQM said the protestors called on the Pakistani establishment to "immediately stop the ongoing inhuman tactics of enforced disappearances of party chief Altaf Hussain's relatives."
They also urged the U.S. to drag Pakistan into the court of justice for being "involved in human rights violations, enforced disappearances, extrajudicial killings, torture, ban on MQM activities and media blackout of Altaf Hussain."
Hussain, while addressing the participants of the demonstration, emphasised on the U.S. Government to play its role in putting an end to the genocide of Mohajirs and Balochs and condemned the role of the Pakistan Army in these barbaric acts.
"The military and civilian U.S. aid to Pakistan must be made conditional on the human rights record of the country. Mohajirs are optimistic in U.S. President Trump administration to support them in their struggle for an autonomous province," he said.
Earlier in June, Pakistan's crackdown on the Mohajir community was brought up at the United Nations.
Drawing attention towards Pakistan's heavy-handedness on the MQM and Mohajir community, a UN member said it is expected that that the Government of Pakistan, instead of targeting the religious extremist outfits which threaten the peaceful society, the state is going to take extreme measures to silence Pakistani politician Altaf Hussain by charging him false and fabricated cases.
Asserting that membership of the UN is not a privilege to kill people, the lawyer said the Mohajirs are facing genocide.
-ANI