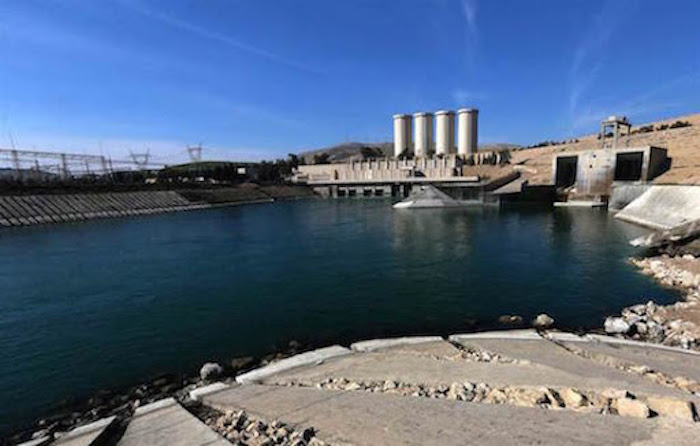 US Ambassador to United Nations raises concerns on the breach of Mosul Dam that could potentially endanger 1.47 million Iraqi citizen
Samantha Powers along with Iraqi government has urged the international community to step up efforts to repair the damage to avoid \"catastrophic failure\"
The two-mile long dam was briefly under Islamic State control and repair works remain threatened by heightened regional insecurity
An urgent session conducted on Wednesday by Samantha Power, the United States' ambassador to the United Nations, revealed worrying facts about the Mosul Dam in Iraq.
The briefing, held in New York City, was co-hosted with the Government of Iraq, UNDP, and UN OCHA. It drew attention to the "serious and unprecedented risk of catastrophic failure" of the breach in the dam that could endanger 500,000 to 1.47 million citizens who live in its flood path.
Just left chilling briefing on Mosul dam in Iraq; failure could leave Mosul City under 15m of water in only hours. pic.twitter.com/FqJuC4SiVy

- Samantha Power (@AmbassadorPower) March 9, 2016
The session revealed plans involving Iran and the international community's taking control of the situation. However, it added that the UN emergency appeal for Iraq is only 8 per cent funded to date.
Mosul is the largest dam - two miles long - in Iraq, formerly known as the Saddam Dam. It was completed in 1984 and was functional in 1986. Mosul Dam has been providing water and electricity to the city of Mosul since then. At present, it can hold back as much as 441 million cubic feet of water, a CNN report found.
Raising concerns over the impending tragedy, in case of inaction, Powers pointed out, "While important steps have been taken to address a potential breach, the dam could still fail. In the event of a breach, there is a potential in some places for a flood wave up to 14 metres high that could sweep up everything in its path, including people, cars, unexploded ordnance, waste and other hazardous material, further endangering massive population centers that lie in the flood path," she explained, stressing on the need for UN members to understand the magnitude of the problem, referring to it as "a humanitarian catastrophe of epic proportions".
Work to stabilize Mosul dam must begin ASAP but all countries must step up to fund relief & public education on evacuation routes

- Samantha Power (@AmbassadorPower) March 9, 2016
For a brief period in 2014, the Islamic State held control over the dam, and security threats in the region continue to prevail. However, the immediate concern remains over the stability of the dam, which if breached could flood over the 600,000 residents of Mosul in less than four hours, Iraqi Prime Minister Haider al-Abadi had stated earlier.
Just last week, a contract worth 273 million Euros, for its repairs was signed with an Italian construction company called Trevi, media reports informed. However, to initiate any kind of research and repair work in the region, the governments will have to ensure security and stability from Islamic State threats.