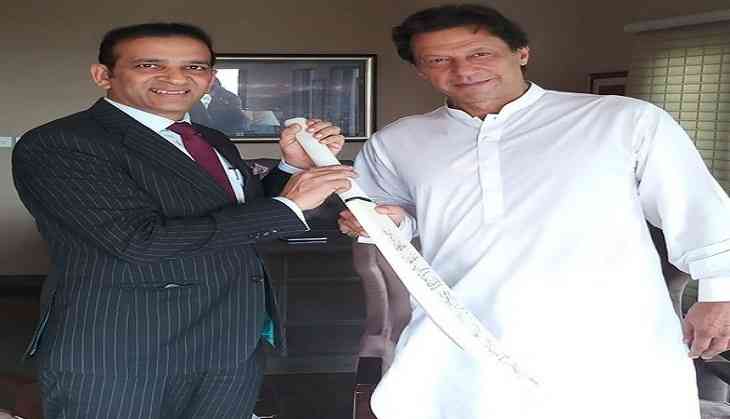 Indian High Commissioner to Pakistan, Ajay Bisaria, on Friday called on Pakistan's Prime Minister-designate Imran Khan. The envoy termed the meeting to be positive and constructive. He also gifted Khan a bat autographed by the entire Indian cricket team.
This was India's first diplomatic outreach to Pakistan's government in waiting after Prime Minister Narendra Modi had called up Khan on July 30 and congratulated him on his electoral success. Modi expressed hope that democracy would take deeper roots in Pakistan while calling for peace and development in the entire neighbourhood.
On Friday, Bisaria too congratulated Pakistan Tehreek-e-Insaf chief on his electoral success and discussed range of issues and prospects of India-Pakistan relationship.
Shortly after the meeting Bisaria tweeted details of his meeting saying: "Called on @ImranKhanPTI and his team today for a positive, constructive conversation."
"Indian HC Ajay Bisaria called on Mr Imran Khan, Chairperson & senior leadership of PTI. HC congratulated @ImranKhanPTI on his electoral success, discussed range of issues, prospects of India-Pak relationship. HC gifted a cricket bat autographed by the entire Indian cricket team," the Indian High Commission tweeted.
Pakistan went to polls on July 25 and the PTI had emerged as the single largest party with 116 seats after the Election Commission of Pakistan released the complete results for 270 of 272 National Assembly (NA) constituencies.
On July 28, the MEA in a statement said that "India desired to have a prosperous and progressive Pakistan at peace with its neighbours." In response to questions from the media regarding the general elections in Pakistan, MEA official spokesperson Raveesh Kumar said, "We welcome that the people of Pakistan have reposed their faith in democracy through general elections. India desires to have a prosperous and progressive Pakistan at peace with its neighbours."
India expressed hope that the newly elected government would work constructively to build a safe, stable, secure and developed South Asia which will be free of terrorism and violence.
In his first speech after the general elections, Khan said he wanted to have good relations with India and work to resolve all outstanding issues through dialogue. Mentioning Kashmir as the core issue of dispute between the two nations, he said that it was time the two countries sat across the table and discussed the issues of concern.
"We should sit across and resolve the issues instead of we blaming India for problems in Balochistan and they blame us for problems in Kashmir. I can say that if you (India) will take one step forward, we will take two steps forward. The relationship between the two countries has been one-sided so far and Pakistan has been blamed for all sorts of terrorism in the world. We want friendship with India and want to resolve all issues through dialogue," Khan elucidated.
Amid speculations about Khan's swearing-in dates, the Pakistani media ran a report quoting PTI Senator Faisal Javed saying that the former would take oath on August 18.
The PTI has claimed that it had enough numbers to form the government at the centre in coalition with other smaller parties. The party on Monday formally announced Khan as the new Pakistan Prime Ministerial candidate.
(ANI)