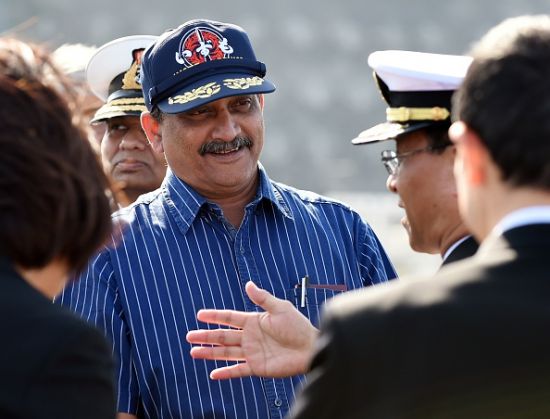 Top Indian and American defence officials have discussed a range of common regional security interests and new opportunities for engagement, laying the foundation for Defence Minister Manohar Parrikar's maiden visit to the US next month, a senior Pentagon official said.
The 14th US-India Defence Policy Group (DPG) meeting was co-chaired by US Under-Secretary of Defence for Policy Christine Wormuth and Indian Defence Secretary G Mohan Kumar.
Held at the Pentagon here on November 18, the meeting serves as an annual, senior-level defence dialogue and was the primary mechanism to guide bilateral strategic defence ties.
"The two sides discussed a wealth of common regional security interests, new opportunities for defense engagement, and ways to further strengthen the military-to-military ties," a senior US Defence official told PTI.
The meeting took place in the backdrop of escalating tensions over territorial claims in the South China Sea, over which Washington and Beijing are locked in a war of words after China began developing artificial islands in areas also claimed by several other South East Asian nations.
"This dialogue was particularly important as it marks the first time the DPG has convened since (US Defence) Secretary (Ashton) Carter's successful trip to India in June and has laid the foundation for Indian Minister of Defence Manohar Parrikar's upcoming visit to the US in December," the official said.
Parrikar is scheduled to visit the US on December 10.
Wormuth and Kumar identified several key areas such as defence strategy, humanitarian assistance and disaster relief (HADR), and maritime security cooperation which may present new opportunities for collaboration in the coming year.
"Both emphasised their commitment to onward progress in defence cooperation in order to build on the positive momentum brought about through recent senior-level engagements," the official said.
The meeting was also the first after the Defence Framework Pact was signed during Carter's India visit.
The pact provides avenues for high-level strategic discussions, continued exchanges between armed forces of both countries, and strengthening of defence capabilities.
-PTI