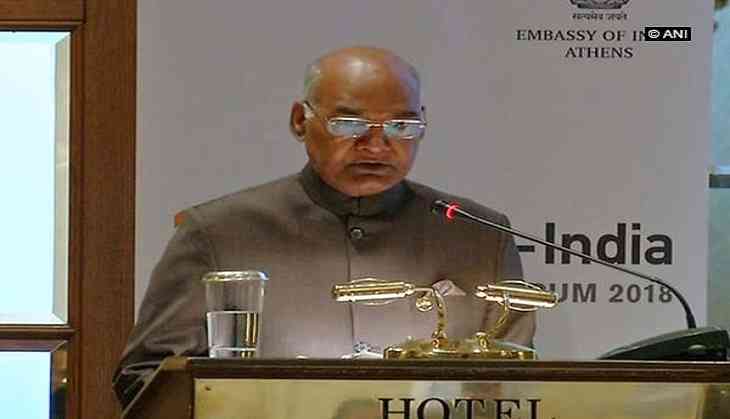 India and Suriname on Wednesday expressed their keenness to cooperate in the development of the solar energy projects.
"As two developing countries with similar political trajectories we have gone hand in hand. We are committed to sharing our expertise with Suriname for growth and development. It is in that spirit that we are keen to assist you (Suriname) in developing solar energy projects," President Ram Nath Kovind said while delivering a speech at Chamber of Commerce and Industry in Suriname alongside his Surinamese counterpart Desire Delano Bouterse.
Earlier Surinamese President Bouterse presented Instrument of Ratification on the Framework Agreement on the Establishment of the International Solar Alliance (ISA) to President Kovind.
Furthermore President Kovind, in a separate address of the day, underscored "India is proud to have Suriname as a co-partner in the International Solar Alliance (ISA)," adding, "India will extend concessional financing of USD 20 million for setting up a solar project to provide clean energy to a cluster of 49 villages in Suriname."
Furthermore, taking note of the 4th edition of International Yoga Day, President Kovind expressed his happiness over Bouterse joining him in the celebrations, saying, "This will be for the first time since 2015 that two heads of states would be celebrating yoga together. This will indeed be historic."
The president also stressed upon that he will be laying the foundation stone of an Indian cultural centre dedicated to the promotion of "Hindustani" music">music and culture">culture.
President Kovind heaped praises on the South American country, saying that the ones who built the country "are made of higher determination and steely courage," clarifying that these were no random thoughts but "steady feelings that clouded me as I walked to the Mama Sranan and 'Baba and Mai' monuments this morning."
He, along with India's First Lady Savita Kovind, who is accompanying him to their maiden official visit to Suriname garlanded the statue of 'Baba and Mai' at the monument of Mama Sranan (Mother of Suriname) in Paramaribo.
The president also paid floral tributes to the monument of Mama Sranan.
He earlier paid tribute at the statue of Father of the Nation Mahatma Gandhi in Paramaribo, the capital city of the South American country.
President Ram Nath Kovind and first lady Savita Kovind, who are on a three-nation visit, arrived in Suriname on Tuesday night (local time).
He is the first Indian President to visit Suriname.
He is scheduled to visit Cuba after concluding his visit to the South American country.
(ANI)