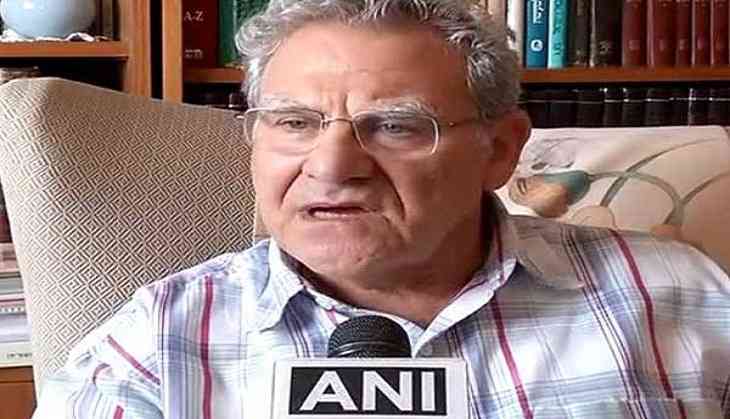 Terming Prime Minister Narendra Modi's visit to Israel as very significant, Professor Efraim Inbar, Founding Director of the Begin Sadat Centre for Strategic Studies, said India is extremely important country for Israel, because of the changes in the international system, while adding that both countries face threat from radical Islamism.
"We see less prominence of the United States and more of the international action is moving to the Asia-Pacific region. India is a rising power with a clear strategic agenda and we face the same threat of radical Islamism. Therefore, we are partners in this strategic journey," Professor Inbar said.
Speaking on the Indo-Israel defence ties, Professor Inbar said, "India is an important customer and Israel is interested in selling weapons and technology transfer in defence areas. There are other areas of cooperation as well."
As far as projects under 'Make in India' are concerned, Professor Inbar said, "India and Israel have joined hands in producing weapons and sharing technology by following the policy of Prime Minister Modi and we are succeeding in this respect."
Commenting on the common threat of terrorism faced by Israel and India due to the neighbouring countries, he said, "Both India and Israel live in tough neighbourhoods with bad people around us and we can share experiences and increase cooperation in counter-terrorism and nuclear exchange."
Describing the chemistry between Prime Minister Narendra Modi and Israeli Prime Minister Benjamin Netanyahu as good, he said, "Good relationship between leaders is essential for building mutual trust and strong relationship."
Pointing to the fact that Indian market is still untapped by Israelis, he said India and Israel should look forward to improve their cooperation in national security areas as well. Prime Minister Modi reached Israel yesterday for a three-day-long state visit where he visited Yad Vashem, memorial to the victims of the Holocaust, where he laid wreath to honour the victims.
In his 48-hour visit, the Prime Minister Modi, who is the first Indian prime minister to visit Israel, is attending 18 programmes in Israel.
These programmes include bilateral meetings, mega Community Programme, meeting top Israeli CEOs, NRIs, students.
Today, the Indian leader met with Israeli President Reuven Rivlin, who broke protocol to receive Prime Minister Modi and welcome him.
Both Prime Minister Modi and President Rivlin held extensive talks on a wide range of issues pertaining to India- Israel friendship and other global issues.
Recalling his visit to India, President Rivlin said ," I am glad to say it is only eight months since I visited India ,I will never forget I found real strong nation with strong ideas and India is one of the greatest democracies in the world in this time."
-ANI