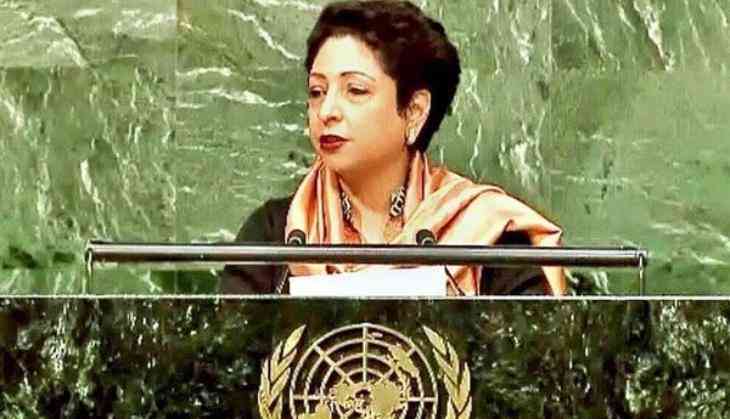 In response to Sushma speech, Pak envoy says India as 'mother of terrorism in South Asia'
Pakistan on Sunday described India as the "Mother of Terrorism in South Asia" and urged the international community to stop New Delhi's provocative and aggressive actions.
Pakistan's Permanent Representative to the United Nations Maleeha Lodhi cautioned the international community to act firmly against India if it wanted to avoid a dangerous escalation between the two neighbours.
Lodhi, who was exercising her right to reply to External Affairs Minister Sushma Swaraj's view that Pakistan has created terror groups like the Lashkar-e-Toiba, the Jaish-e-Mohammad and the Haqqani Network, said New Delhi must stop ignoring what she called the "core issue" of Kashmir.
It may be recalled that Swaraj avoided mentioning Kashmir in her address at the 72nd session of the United Nations General Assembly (UNGA).
"If the international community wishes to avoid a dangerous escalation between India and Pakistan, it must call on India to halt its provocations and aggressive actions. It must end the ceasefire violations along the Line of Control. It must halt its sponsorship of terrorist groups against Pakistan," Lodhi said.
India is yet to decide whether it wants to exercise its right to respond to Ambassador Lodhi's remarks.
Ambassador Lodhi said if Pakistan and India fail to resolve the Kashmir dispute, the UN and the international community has the right and the obligation to help to resolve it.
"UN Security Council resolutions do not lapse with time. Or are 'overtaken', as the Indian foreign minister put it. Law has no expiry date. Morality has no sell-by date. India's posture is that of the predator. It cannot escape its legal and moral obligation to abide by the resolutions of the Security Council," she said.
Referring to Swaraj's remarks on terrorism and her push for a definition, Lodhi said the UN should actually define terrorism.
"In that definition, we should include 'state terrorism'.India has sponsored and perpetrated terrorism and aggression against all its neighbours; creating terror groups; destabilising and blockading neighbours to do its strategic bidding and sponsoring subversion, sabotage and terrorism in various parts of Pakistan. All this establishes that India is the mother of terrorism in South Asia," she alleged.
She said the 'largest democracy' is also "the world's largest hypocrisy" and it's ruled by the "Fascist" ideology.
She also said Pakistan remains open to resuming a comprehensive dialogue with India to address all outstanding issues, especially Jammu and Kashmir and discuss measures to maintain peace and security.
"But this dialogue must be accompanied by an end to India's campaign of subversion and state-sponsored terrorism in Pakistan," she demanded.
In her speech, Swaraj had said Prime Minister Narendra Modi has offered the hand of peace and friendship since he assumed office.
"Pakistan's Prime Minister must answer why his nation spurned this offer," she had said.
Swaraj reminded Pakistan Prime Minister Shahid Khaqan Abbasi that in December 2015, when she was in Islamabad, a decision was made by the Prime Minister Nawaz Sharif that dialogue between India and Pakistan should be renewed and named it a "Comprehensive Bilateral Dialogue".
"The word 'bilateral' was used consciously to remove any confusion or doubt about the fact that the proposed talks would be between our two nations and only between our two nations, without any third-party present. And he must answer why that proposal withered, because Pakistan is responsible for the aborting that peace process," Swaraj had said.
-ANI