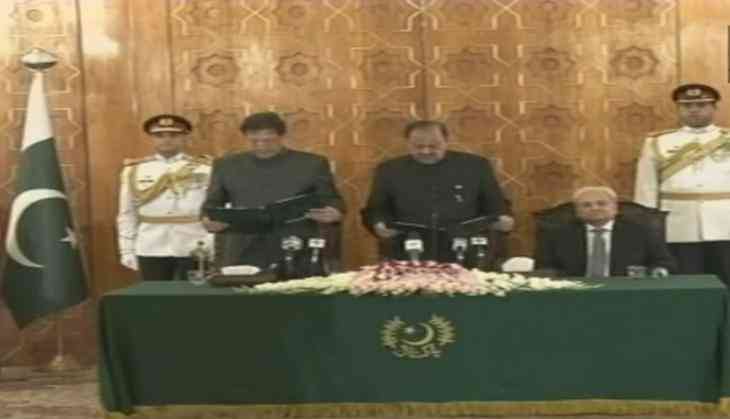 Imran Khan takes oath as Pakistan's 22nd Prime Minister administered by President Mamnoon Hussain. Cricketer-turned-politician and PTI chief Imran Khan took oath at the President House in Islamabad. On the occasion of Imran Khan's swear-in, Punjab Minister and former cricketer Navjyot Singh Sidhu has arrived at the neighbouring country on Friday to attend Khan's oath-taking ceremony.
"I have come here as a friend, as a goodwill messenger. I have brought a Kashmiri shawl as a gift for Khan. I love Kashmiri shawls and I have many. It is a symbol of love," he told Pakistani media after entering the country via the Attari-Wagah border.
"Those people who have looted the country, I promise that they will be brought to justice," Mr Khan reiterated yesterday after winning the sharp vote in parliament for the top seat.
Other than Navjyot Singh Sidhu, Sunil Gavaskar and Kapil Dev to his oath ceremony. Only Mr Sidhu has made it to Pakistan for the event.
In the 15th National Assembly election held on July 25, Imran Khan's PTI emerged as the largest party by securing 116 seats. Opposition parties Pakistan Muslim League (PML-N) and Pakistan People's Party (PPP) won 64 and 43 seats respectively. On Friday, of the total National Assembly members, 176 voted in favour of Khan, while his opponent, Shahbaz received 96 votes. After which PTI chief Khan was elected as Pakistan's 22nd PM.
Also read: Imran Khan Swearing-in: Pakistan's elected 22nd Prime Minister Imran Khan to take oath shortly; Navjyot Singh Sidhu arrived