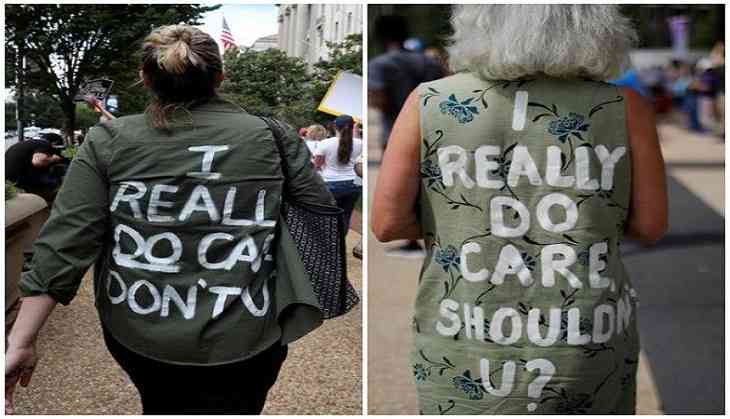 United States' First Lady Melania Trump's "inappropriate" jacket has drawn attention once again, this time, during the "Families Belong Together" march.
Melania created a stir when she wore a jacket which read - "I really don't care, do u?", during her visit to an immigrant detention centre in Texas last week.
Although, her spokeswoman Stephanie Grisham clarified that she was not sending a "hidden message", critics called her choice of clothes as "insensitive", given the massive backlash over the Trump administration's policy of separating children from their parents at the US-Mexico border.
In this regard, a number of protestors participating in the march were seen sporting 'I really do care' t-shirts to support the immigrant families and children.
In New York, protesters Annie Scott and Fernanda Kock wore olive green T-shirts with the message - "I Really Do Care" on the front, CNN reported.
In Washington D.C., four members of a family donned green t-shirts with the message - "I Really Do Care, Do U?"
"We're here because we think this is important," Scott told CNN on participating in the demonstration to protest against Trump's "zero tolerance" immigrant policy.
People from all walks of life across the US took to the streets in large numbers to protest against Trump's immigration policies and family separations.
The epicentre of the demonstration was Lafayette Square, near the White House in Washington D.C., where scores of citizens are demanding immediate reunification of migrant families and calling for an end to family separations and detentions.
The demonstrators wore white clothes as a sign of 'unity' and chanted anti-Trump slogans such as "Shame" and carried banners which read - "Deport Trump, Reunite Families" and "asylum seekers are not criminals," CNN reported.
The protesters are demanding the administration to withdraw the "Zero Tolerance Policy" and to end separation and detention of migrant families.
Trump signed an executive order to "keep families together" on June 20, amid the massive backlash over his administration's policy of separating children from their parents at the US-Mexico border.
The US president defended his policy of separating children from their families who have been illegally crossing the southern US-Mexico border, saying, to prosecute parents for illicit entry, "you have to take the children away."
In April, Attorney General Jeff Sessions announced a new zero-tolerance policy on the border to prosecute immigrants for entering the country illegally.
By virtue of this policy, families who crossed together illegally would in some cases be separated, prompting a sweeping outcry from Democrats and immigration advocates.
Nearly 2,000 children were taken away from their parents in a six-week period in April and May under the new Trump administration policy, according to several media reports.
Parents have since been arrested and placed in quick federal court proceedings near the border, while children are placed in shelters.
(ANI)