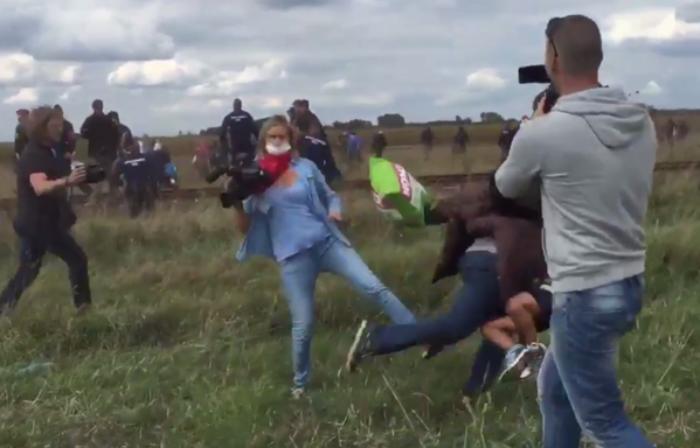 A Hungarian camerawoman who drew global outrage for kicking refugees has said that she is considering moving to Russia after her criminal trial.
In separate videos that surfaced in September, the accused, Petra Laszlo, can be seen seen kicking refugees, including a little girl, and tripping a man carrying a child as hundreds of migrants broke through the police line at Roszke - near the Hungary-Serbia border.
Laszlo worked for N1TV, a local TV station linked to the far-right anti-immigration party Jobbik. She was fired after the videos went viral.
Laszlo faces hooliganism charges in Hungary that carry up to three years jail. In an interview, she has stated, "My lawyer has told me that I should be able to walk free with an 18-month suspended sentence.
"Russian media quoted Laszlo as saying she plans to sue Osama Abdul Mohsen, the refugee who she had tripped. Mohsen, who was carrying his 7-year-old child when he tripped and fell, received overwhelming support on social media.
Laszlo, however, claims Mohsen modified his account of the incident.According to News.au, Laszlo also intends to sue Facebook for allegedly refusing to remove groups that were condemning her actions, while deleting groups that supported her.
"We (Laszlo and her family) are considering Russia and are thinking about starting to learn Russian. It's important for us to leave Hungary now.
We'll decide after the trial," Laszlo told the staunchly pro-Kremlin Izvestia newspaper."The refugees were running in my direction and it was scary.
They started pushing me. That was the only reason I kicked one of the refugees. So that they didn't push me. It was my defensive reaction," she was quoted as saying. "I didn't see that it was a child," Laszlo added. "I regret that this happened like this. My mistake is that I stayed to keep filming and didn't run away."