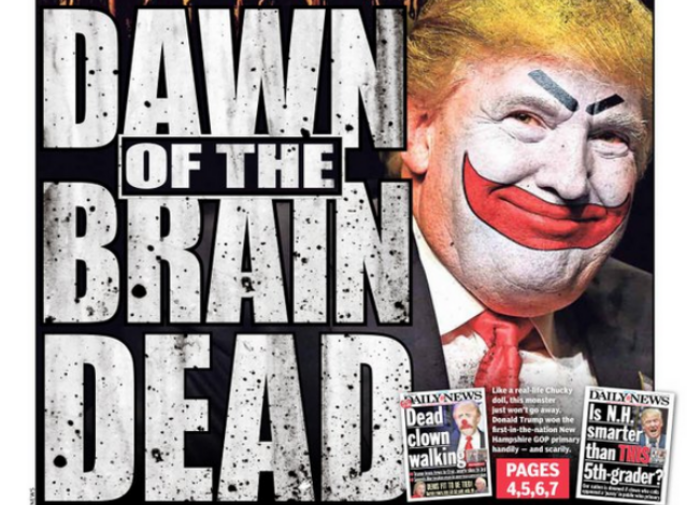 The Huffington Post headline following the New Hampshire primary referred to leading Republican candidate Donald Trump as \"Racist, Sexist Demagogue\"
The online media house has been adding editor notes to its pieces on Donald Trump calling him a liar, racist, bully and so on.
The New York Daily News has also referred to the New Hampshire voters as \"brain dead\".
As the great game of democracy in the United States rolls, Tuesday night saw a victory for Donald Trump in the New Hampshire primary. Some cheered, many were disappointed - but none so much as online media giant Huffington Post.
To say they were upset at Trump winning New Hampshire would be an understatement. The left-leaning website has since been running headlines accusing the state of New Hampshire of being racist, sexist and xenophobic.
"A Racist, Sexist Demagogue Just Won The New Hampshire Primary," read one headline on the Huffington Post website. The headline for Sanders was slightly more subtle - and smaller - "A Democratic Socialist Just Won New Hampshire". If you thought that wasn't too bad, the article goes on to call Sanders the "first Jew" to win the presidential primary.
Now leading HuffPost: WTF GOP pic.twitter.com/UgrbbcSK7O

- Huffington Post (@HuffingtonPost) February 10, 2016
"What the GOP got instead is a xenophobic demagogue who's insulted pretty much everyone and even earned the endorsement of white supremacists," the article reads.
Another self-assuring piece on the Huffington Post homepage, on Tuesday, points out to how no president has ever won a contested New Hampshire primary in 28 years.
Interestingly though, their headline about 24 hours ahead of the primaries gave it major Hunger Games feels, making them indicative of the what the final stage might look like.
Huffington Post has made it clear over and again that it shares no sympathies with the infamous Republican candidate, especially when they took him off their political section last year, and moved him on to the entertainment section. They have since moved him back into the elections coverage, and they must realise that as Trump gains popularity, they cannot continue dismiss him.
Huffington Post has also taken upon itself to add an editorial note at the end of every article they publish, reminding readers of Trump being a "liar, racist, bully, etc". Each of their accusations is linked to a story done by the website on Trump's misadventures. The note reads, "Donald Trump is a serial liar, rampant xenophobe, racist, misogynist, birther and bully who has repeatedly pledged to ban all Muslims - 1.6 billion members of an entire religion - from entering the US."
They are not entirely alone in their editorial campaigns against Trump. The New York Daily News has also been known to take every opportunity to show the presidential hopeful in light. Their headline read-"Dawn of the brain dead," referring to the voters of the New Hampshire state. The sub-heading following that headline read-"Clown comes back to life with NH win as mindless zombies turn out in droves"
Tomorrow's front page:DAWN OF THE BRAIN DEAD - Trump comes back to life with N.H. win: https://t.co/rkj242rGEf pic.twitter.com/LRWPDIJJfL

- New York Daily News (@NYDailyNews) February 10, 2016
It must be remembered that Trump's victory, however unfortunate, is after all a product of the democracy we so cherish.