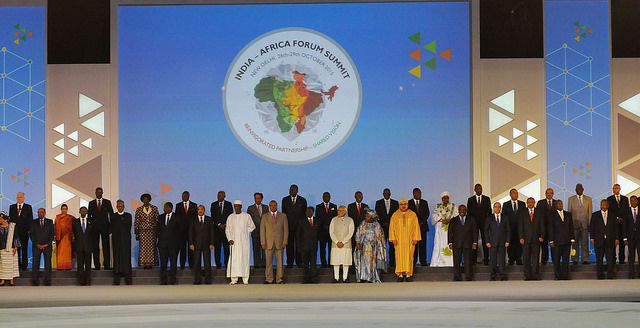 After holding wide-ranging talks with the 19 heads of governments from Africa, Prime Minister Narendra Modi on Thursday addressed representatives of 54 African nations including heads of state and government of around 40 countries.
Below are some highlights from Modi's speech at the Inaugural Ceremony of the third India-Africa Forum Summit on 29th October 2015.
-The fabric of this world is richer because of the 54 sovereign flags of Africa. Today, their brilliant colours have made Delhi the most special place in the world.
-Our histories have intersected since ages. Once united by geography, we are now linked by the Indian Ocean. The currents of the mighty ocean have nurtured the ties of kinship, commerce, and culture through centuries.
-We have lived in the long shadow of colonialism. And, we have fought for our liberty and our dignity. We have struggled for opportunity, and also for justice, which, the African wisdom describes, is the prime condition of humanity.
-And, as we look to the future, there is something precious that unites us: it is our youth. Two-thirds of India and two-thirds of Africa is under the age of 35 years. And, if the future belongs to the youth, then this century is ours to shape and build.
-African struggles and sacrifices are upholding democracy, combating extremism and empowering women. Women now constitute around 20% of the elected Members of Parliament in Africa.
-Africa's economic growth has gathered momentum and has a more diversified base. African initiatives are replacing old fault lines with new bridges of regional economic integration.
-Four hundred thousand new businesses were registered in Africa in 2013; and, mobile telephone now reaches 95% of the population in many places.
-Africa is now joining the global mainstream of innovation. The mobile banking of M-Pesa, the healthcare innovation of MedAfrica, or the agriculture innovation of AgriManagr and Kilimo Salama, are using mobile and digital technology to transform lives in Africa.
-Africa's sports, art and music delight the entire world. Yes, Africa, like the rest of the developing world, has its development challenges. And, like others in the world, it has its own concerns of security and stability, especially from terrorism and extremism.
Africa and India are two bright spots of hope and opportunities in the global economy.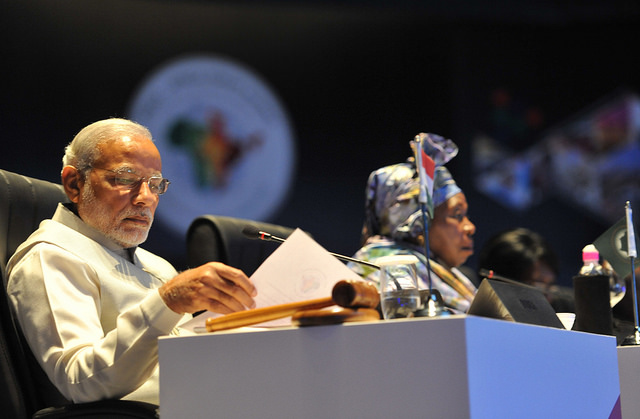 -India is honoured to be a development partner for Africa. It is a partnership beyond strategic concerns and economic benefits. It is formed from the emotional bonds we share and the solidarity we feel for each other.
-In less than a decade, our trade has more than doubled to over 70 billion dollars. India is now a major source of business investments in Africa. Today, 34 African countries enjoy duty free access to the Indian market.
-India has committed 7.4 billion dollars in concessional credit and 1.2 billion dollars in grant since the first India-Africa Summit in 2008. It is creating 100 capacity building institutions, and developing infrastructure, public transport, clean energy, irrigation, agriculture and manufacturing capacity across Africa.
-We will help connect Africa from Cairo to Cape Town, from Marakesh to Mombassa; help develop your infrastructure, power and irrigation; help add value to your resources in Africa; and, set up industrial and information technology parks.
-So, technology will be a strong foundation of our partnership. It will help develop Africa's agriculture sector. Africa has 60% of the world's arable land reserves, and just 10% of the global output. Agriculture in Africa can drive the continent's march to prosperity, and also support global food security.
-India's expertise in healthcare and affordable medicines can offer new hope in the fight against many diseases; and give a newborn a better chance to survive. We will also collaborate to develop Indian and African treasures of traditional knowledge and medicines.
-We will expand and extend the Pan Africa E-Network, conceived by late President APJ Abdul Kalam, which links 48 African countries to India and to each other. This will alsohelp set up your Pan Africa Virtual University.
We will work to reduce digital divide within Africa and between Africa and rest of the world.
-No one has done less to contribute to global warming than India and Africa. No one can be more conscious of climate change than Indians and Africans.
-We are each making enormous efforts with our modest resources to combat climate change. For India, 175 Gigawatts of additional renewable energy capacity by 2022 and reduction in emission intensity by 33-35% by 2030 are just two aspects of our efforts.
-But, it is also true that the excess of few cannot become the burden of many. So, when the world meets in Paris in December, we look to see a comprehensive and concrete outcome that is based on the well established principles in the UN Convention on Climate Change. We will all do our part for it. But, we also want to see a genuine global public partnership that makes clean energy affordable; provides finance and technology to developing countries to access it; and the means to adapt to the impact of climate change.
-India and Africa seek also seek a global trading regime that serves our development goals and improves our trade prospects.
-We should also achieve a permanent solution on public stockholding for food security and special safeguard mechanism in agriculture for the developing countries.
India and Africa must speak in one voice for reforms of the United Nations, including its Security Council.
-When it comes to security, distance no longer insulates us from each other.
-That is why we wish to deepen our cooperation in maritime security and hydrography, and countering terrorism and extremism; and, why we must have a UN Comprehensive Convention on International Terrorism.
-We will also provide support for Africa Union's peacekeeping efforts. And, we will train African peacekeepers here and in Africa. We must also have a stronger voice in decisions on UN Peacekeeping Missions.
-India will offer concessional credit of 10 billion US dollars over the next five years. This will be in addition to our ongoing credit programme. We will also offer a grant assistance of 600 million US dollars. This will include an India-Africa Development Fund of 100 million US dollars and an India-Africa Health Fund of 10 million US dollars.
-It will also include 50,000 scholarships in India over the next five years. And, it will support the expansion of the Pan Africa E-Network and institutions of skilling, training and learning across Africa.