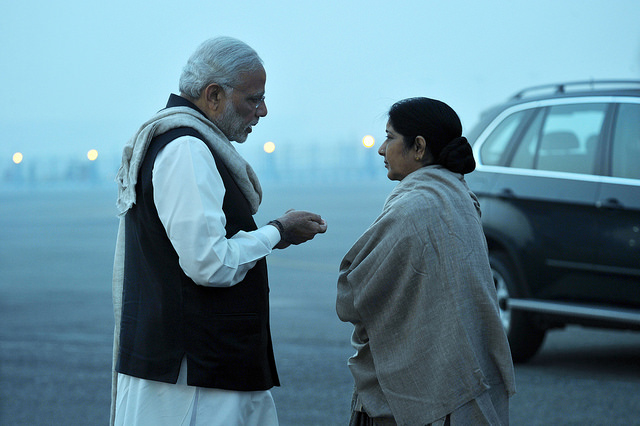 The historic Wembley Stadium in London gears up to welcome Prime Minister Narendra Modi who will address around 60,000 British Indians and preparations are underway in great vigour to ensure the grand event goes without a glitch.
As the trip begins amid opposition, protests and high-profile scheduled meetings, Catch takes a look at what experts had to say about modi's UK visit and outlook in general.
Diplomacy: Harish V Pant - International relations professor talks to Indian Express
It is time for India to reciprocate Cameron's impressive outreach to New Delhi. Ever since he came to office five years ago, he has made a serious effort to upgrade India-UK ties.
In fact, in his first term, India was at the top of the list of emerging powers which his government decided to court. And they did make a serious effort, only to be snubbed by the then UPA govt. It is one of the reasons why, in Cameron's second term, China has got pride of place.
Remember, in his first term he met the Dalai Lama, leading to strong reaction from Beijing. So now is the time for Modi to reciprocate Cameron's investment in India.
Business and economy: Adam Roberts - European Business correspondent for Economist writes for Business Standard
British business will certainly be looking at India, both as an investment destination and as a source of further investment in Britain. One question that will be asked of Modi, however, is how the events in Bihar now affect his grand promises of economic reform and recovery, as India claims to compete with China as an emerging powerhouse in Asia.
In the face of political setbacks, Modi has not shown terrific resilience in the past, nor a steady appetite for liberal reforms. The Goods and Services Tax, promised for April 2016 by him might well be delayed further. Modi has been so preoccupied with electoral politics, he has been distracted from promises to make it far easier to do business in India, or to improve India's tax system.
The best message Modi could bring to London, therefore, is that he would return to focus on economic matters. He talks of building stronger economic and business relationships between the countries. Britain should respond by promising much easier access for Indian students to its universities, and rethink its hostile and self-destructive visa system in general.
Read the full analysis
Education: India Writes on Modi's UK visit and expectations
The UK is one of the most sought after countries for higher education by Indian students. The UK, which is known to have tough visa restrictions for foreign workers, is now said to be liberalising its visa rules to enable more skilled workers to work in the country, said Mr Javid.
With Prime Minister Modi flagging off his mission of urban renewal, India is hoping for Britain to leverage its expertise for building modern infrastructure in India. The UK has offered to help build smart cities in India.
Presenting a report on 'India's Smart Cities Programme - The UK Offer to Build Together' to India's Union Minister of State for Commerce and Industry, Nirmala Sitharaman, Britain's Minister of State for Trade and Investment, Lord Francis Maude said, "As India embarks on its ambition to build 100 smart cities, the UK hopes to be an invaluable partner.
"We look forward to sharing our expertise in building smart cities with India. We take this opportunity very seriously and this report by UK Trade and Investment scopes the opportunities where Britain can best support India's aspirations."
Read the full analysis here
UK-India Business Convention debate: Mohandas Pai and Sunil Sanghai talk about business reforms and clearing bottlenecks