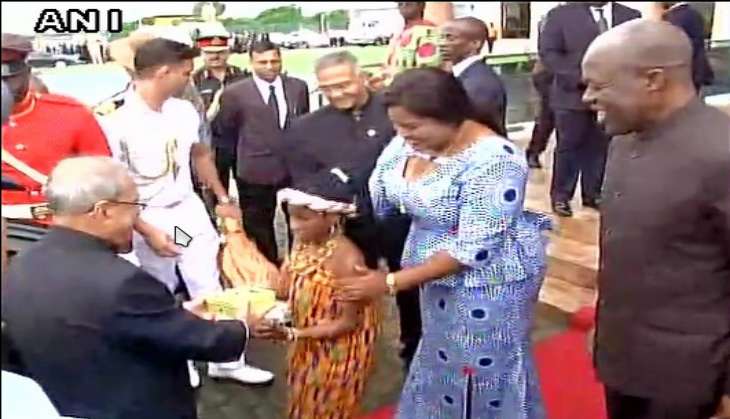 Stating that the world order demands global governance structures that are consistent and well represented, President Pranab Mukherjee said on 12 June that it is a serious anomaly that both India and Africa still remain out of the United Nations Security Council despite new challenges confronting the global community.
Delivering a speech on the occasion of a banquet hosted in his honour by the President of Ghana, John Dramani Mahama, on the first day of his two-day visit to Ghana, President Mukherjee said, "India, home to every sixth citizen of the world, and Africa, a vibrant hub of the global community, still remain out of the U N Security Council."
The president also spoke about the scourge of terrorism. He said, "It is a scourge that knows no borders. It has no ideology, except the ideology of wanton destruction. It must be eradicated through the collective efforts of the civilised world. India is in solidarity with you (Ghana) as you confront this challenge."
On bilateral ties between India and Ghana, President Mukherjee said, "Our bilateral relations have expanded and deepened over the years. Both investments and trade have seen rapid growth. The Government of India and the Indian corporate world recognise the rich potential of the Ghanaian economy. Indian companies would be happy to invest in Ghana if the right opportunities are given to them. We look forward to working with you to realize the full potential of our synergies to our mutual benefit."
The president also praised the Government of Ghana for the giant strides it has made in strengthening democracy and in the upholding democratic values, and added that "the actual victory will belong to those who value democracy, plurality and inclusiveness."
He congratulated the Government of Ghana for making significant advancements in achieving its Millennium Development Goals (MDGs) and Sustainable Development Goals (SDGs), and appreciated Ghana's active fighting against the spread of the Ebola Virus.
He said that the goodwill between the peoples of India and Ghana transcends the geographical distance between the two countries and added that this affinity is underlined by the "trust we share and the bond forged in the hearts and minds of our two peoples."
The India-Ghana brotherhood is anchored in our similar experiences, nurtured by the shared aspirations of our peoples and guided by the vision of our founding fathers," the President said.
--ANI