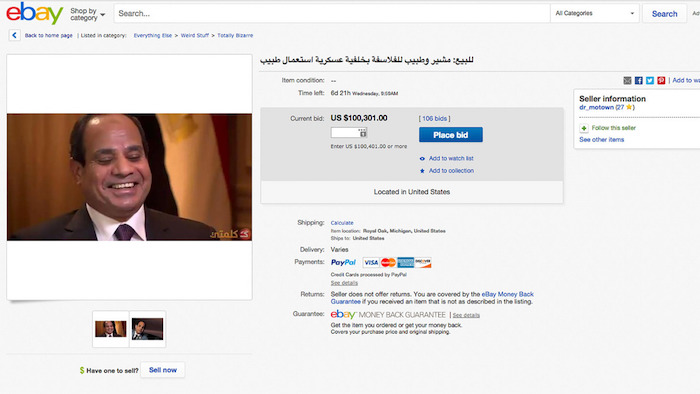 Egypt\'s president put up for sale on eBay after he claims he would sell himself for the country.
Listing describes the former military chief as \"slightly used\" by \"former owners, the Gulf royals\".
Sisi made over $100,000 before the listing was removed.
"If it were possible for me to be sold, I would sell myself," Egyptian President Abdel Fattah el-Sisi said spiritedly, addressing citizens on state television, on Wednesday. He was not in the least bit aware that his people would waste no time to take him up on the offer.The former army chief was lashing out at critics of his state policy and development promises. He would have never imagined ending up as a politically correct sale item on the e-commerce website, eBay, which is what happened when he claimed he would sell himself for the country.
The listing, that since been taken down, after being online for seven days, described the president as "slightly used" by his previous owners -- "the Gulf royals."
A report in the independent.co.uk translated the descriptions, which read, "Hey world, we decided to sell the infamous Egyptian Field Marshal and military coup leader Mr Abdel Fatah el-Sisi on eBay to bail out the Egyptian economy so you don't have to."
"The field marshal himself stated that if selling himself will help, he will not hesitate to do it. So, we are doing it for him, for us and for the humanity," it further explained.
"Please, bid now to help Egypt gain its political and economic independence...you will not regret it!" it appealed.
Turns out, Sisi does indeed have a high market value with bids for him going as high as $100,000. The former military man, who helped bring down Mohammad Morsi during the historic Arab Spring, has been widely criticised for Egypt's economic digression.
In the speech, Sisi not only tried to justify his policies but also went on to ask Egyptians to donate towards state funds using a mobile short code.This wasn't the only instance, though, that frustrated citizens have put their political leaders up for sale.
Earlier this month, inspired by Sisi's market success, Lebanese ministers were also available for sale on eBay, according to this report.