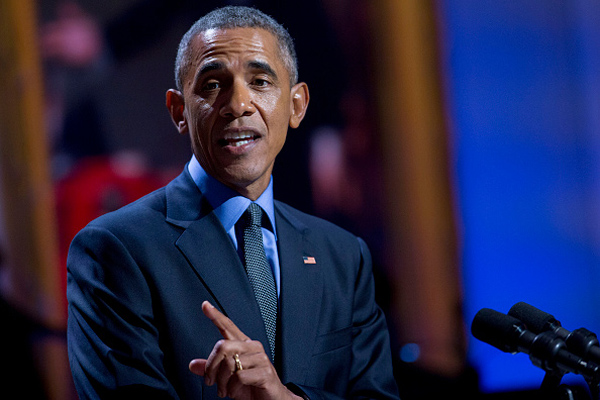 Barack Obama who has been supporting stricter gun control measures had a breakdown recently over the casualties of mass shootouts in US.
While many supported Obama\'s call for improving guidelines for securing arms, Fox News was overtly critical.
Fox News, known for harbouring conspiracy theories about US President Barack Obama, has done it again. Fox News contributor Andrea Tantaros has accused Barack Obama of pretending to cry during his landmark speech on introducing tougher gun controls laws.
Obama was seen wiping away tears as he talked about victims of the 2012 Sandy Hook school shooting, in which 20 children died. But speaking during a discussion of his address on the news channel, Andrea Tantaros stated that the leader's show of emotion was not believable.
Meanwhile, co-host Melissa Francis also described Obama's show of emotion as "bad political theatre".
"I feel bad about those kids in Connecticut, but it's only about this that he gets so upset about and never about terror," she added.
Read: #SanBernadino shooting: US needs to establish gun control, and it needs to do it now
Here's what Andrea Tantaros said:
"I would check the podium for a raw onion or some No More Tears [a brand name for Johnson's baby shampoo]. I mean. it's not really believable. It is awards season after all."
What did Obama say:
These remarks by Fox News hosts came after Obama made his case evident for tougher restrictions on the sale of firearms over the internet and at gun shows.
"Every time I think about those kids, it gets me mad," Obama had stated, as tears streamed down his cheeks.
Not the first time:
In December, analyst Lt Col Ralph Peters called Mr Obama a "p***y" live on air, claiming he was scared to fight ISIS.
Later that day, another contributor, Stacey Dash, said Mr Obama "didn't give a sh*t".
Both were suspended from the channel for two weeks.
Read: One mass shooting every day: why the US must wake up & implement gun control