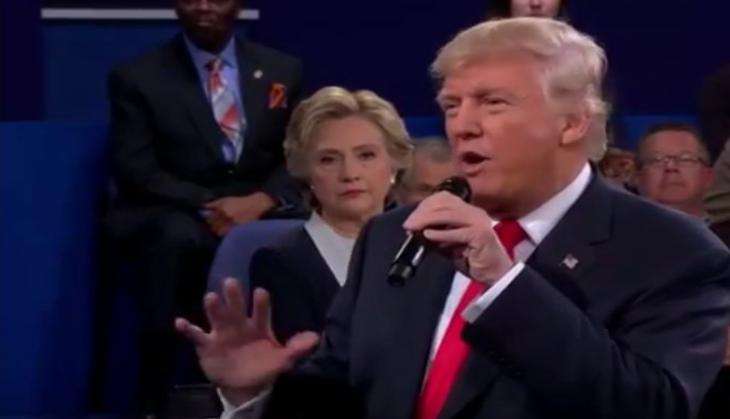 In his latest salvo, Republican presidential nominee Donald Trump has rubbished all allegations of sexual misconduct levelled against him as baseless. In true Trump style, he then went on to indicate that one of the accusers was not even attractive enough.
Jessica Leeds has revealed to the New York Times that Trump groped her and tried to reach up her skirt on a flight more than three decades ago.
At North Carolina's Greenboro, Trump mocked Leeds by impersonating her and said, " 'I was sitting with him on an airplane, and he went after me on the plane,' and added, "Yeah, I'm gonna go after - believe me, she would not be my first choice, that I can tell you."
Former People Magazine reporter Natasha Stoynoff also alleged that Trump tried to sexually assault her by kissing her without her permission in 2005. In response, Trump called her a liar and addressing the people present at his rally said "Check out her Facebook, you'll understand."
Also Read:Barack Obama urges Americans not to fall for what Donald Trump tries to do
Donald Trump also took a dig at President Barack Obama and his democratic rival Hillary Clinton. Asserting that the US cannot afford to have another four years of Obama administration, Trump said that failing to win the upcoming general elections would amount to losing the country.
"Either we win this election or we're going to lose our country, because four more years of Obama, you can't take," Trump told his supporters at an election rally in North Carolina yesterday.
"I know it's not about me, it's about you, and that's why I'm doing this. I didn't need to do this, but it's about you. It's about bringing our country, making our country great again. I'm taking these slings and arrows for you, so we can have our borders, so we can get back our jobs, so we can be a safe nation again," he said.
Also Read: Donald Trump to address Indian-Americans rally at charity event in New Jersey
Terming Barack Obama as an "incompetent president", 70-year old Trump claimed that the US president did not know what he was doing.
"He's out campaigning all day long, he is talking about me like he knows me. I don't know him, he doesn't know me. And why doesn't some woman maybe come up and say what they say falsely about me, they could say about him. They could say it about anybody. I'll tell you what, better be careful, because they could say it about anybody, anybody at all," he alleged.
"Obama is incompetent, as a president, he's about as bad as it gets. Look at what's happening, how Iran is taunting us. Look at what's going on, look at the world. He gives away USD 400 million in cash, but it turns out to USD 1.7 billion in cash. Gives them USD 150 billion," he said amidst booing from the audience.
Noting that Obama is an "embarrassment", Trump alleged that the US president's Middle East policy was a "total disaster".
"We have an incompetent president. I hate to say it, but it is 100% true. All he's doing, instead of working on your jobs and your companies leaving for Mexico and other places, he's campaigning for crooked Hillary. That's all he does," Trump alleged.
Referring to the Wikileaks revelations, Trump alleged Clinton was saying something in the public but has a different opinion in private.
"WikiLeaks documents Hillary Clinton speaking in secret, a secret Brazilian bank. Hillary Clinton said 'my dream is a hemisphere common market with open trade and open borders'," he said.
"Even though she doesn't say that, but that's what she said in a very, very secret meeting. The e-mails show that behind closed doors speaking to these international bankers, Hillary Clinton's pledged to destroy the sovereignty of the US," Trump said.
He said a Trump administration will secure and defend the US' borders like never before.
"We will build a wall. Crooked Hillary also wants a 550% increase in Syrian refugees to pour into our country," he said.
- With PTI inputs