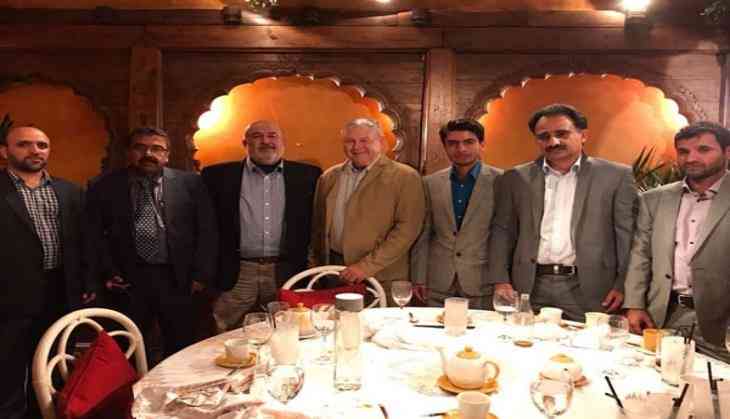 A delegation of the Free Balochistan Movement along with the Khan of Kalat, Mir Suleman Daud, met with American Congressman Dana Rohrabacher in London on 17 August and discussed American foreign policy, Islamic terrorism and Balochistan issue including the China-Pakistan Economic Corridor (CPEC).
The Congressman, who was on a visit to London, met with several political figures including the founder of the Wikileaks, Julian Assange.
The FBM delegation also delivered a message of the leader of the Free Balochistan Movement, Hyrbyair Marri, to the American Congressman.
Mir Suleman Daud and FBM delegation emphasised that the U.S. approach towards the Afghanistan issue should be geopolitical-centric, and instead of chasing shadows, Americans should focus their attention on Pakistan which is training, financing and facilitating the Taliban and other religious extremist groups.
The delegation hoped that the administration of President Donald Trump changes the American foreign policy towards Afghanistan and puts pressure on Pakistan to stop supporting the Jihadist groups that have been disturbing the peace in Afghanistan for last several decades.
The Baloch delegation told Rohrabacher that the sudden withdrawal of the American troops from Afghanistan will create a vacuum only to be filled by the Taliban, the ISIS and other Pakistan-backed Jihadist extremist groups.
They said that the U.S.A. should support the Baloch freedom struggle and other secular nations like the Sindhis and Pashtuns, who are striving against Pakistan.
"The Baloch, like the Kurds, are natural allies of the United States and rest of the civilised world in the war against religious terrorism," the FBM delegation said.
This is because the Baloch believe that they share many values with the western world. The belief that one must respect other people and their culture is one that is deeply embedded in the Baloch social fabric.
The FBM delegation also said that the Chinese presence and its growing expansionist designs in the region, especially, at the Gwadar port are a threat for the Baloch people. As they are working with the occupiers of Balochistan and have no regard for the Baloch people and threaten their very existence. The Chinese projects in Balochistan will also be harmful towards the interests of America in the long run.
The Khan of Kalat and the FBM delegation also raised the issue of ongoing human rights violations by the Pakistani forces in Balochistan and appreciated Dana Rohrabacher's efforts to highlight Balochistan's issue and Islamabad's atrocities against the Baloch people.
Congressman Rohrabacher, a supporter of Free Balochistan cause, vowed to continue his efforts to raise Balochistan issue at all forums in the U.S.A. and elsewhere. The Baloch delegation thanked him for his time and effort and look forward progress and future meetings on this subject.
-ANI