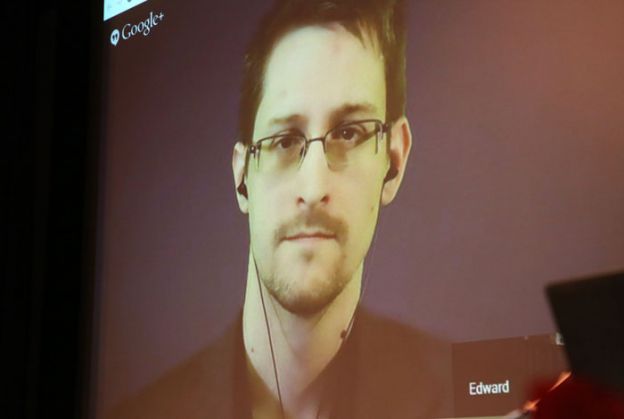 Whistleblower Edward Snowden, whose NSA revelations sparked a debate on mass surveillance in USA, has joined arguments over the FBI's attempt to force Apple to help it unlock the iPhone 5C of one of the San Bernardino shooters, as reported by Guardian.
According to FBI, only Apple can deactivate certain passcode protections on the iPhone, which will allow law enforcement to guess the passcode by using brute-force.
Snowden was talking via video link from Moscow to the Common Cause Blueprint for a Great Democracy conference.
He further said: "The FBI says Apple has the 'exclusive technical means' to unlock the phone. Respectfully, that's bullshit." Post this, he went on to tweet his support for an American Civil Liberties Union report saying that the FBI's claims in the case are fraudulent.
The global technological consensus is against the FBI. Why? Here's one example: https://t.co/t2JHOLK8iU #FBIvsApple https://t.co/mH1ZXOOQ1E

- Edward Snowden (@Snowden) March 8, 2016
The story so far:
A deadly act of terrorism last December left 14 people dead while 22 were seriously injured. The couple that carried out the shootings was chased by police and killed.
Following the shooting, FBI approached Apple for help, as one of the terrorists, Syed Rizwan Farook, was using an iPhone. Apple, as the company states, "worked hard to support the government's efforts to solve this horrible crime."
In a blog titled 'A Message to Our Customers', Apple states, "When the FBI has requested data that's in our possession, we have provided it. Apple complies with valid subpoenas and search warrants, as we have in the San Bernardino case. We have also made Apple engineers available to advise the FBI."
The US government has now demanded that Apple unlock the encrypted iPhone belonging to one of the terrorists. The FBI and government want Apple to disable some of its passcode protections. So far, Apple has pushed back and maintained that the move would set a dangerous example and threaten customer security.
"The clash between Apple and the Justice Department has driven straight to the heart of a long-running debate over how much law enforcement and intelligence officials should be able to monitor digital communications", reported Reuters.
With inputs from Shweta Sengar