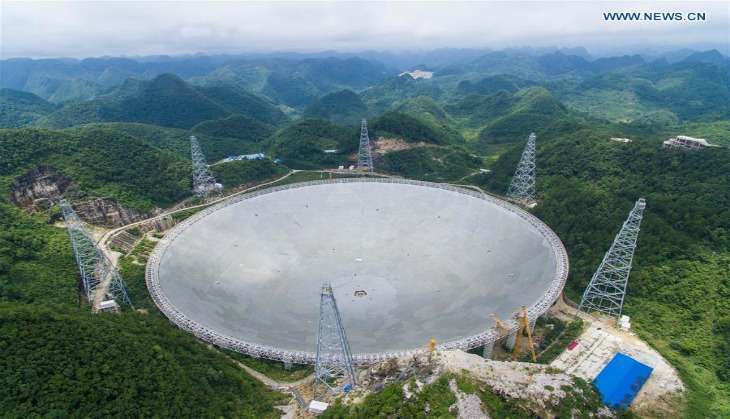 A radio telescope the size of 30 football fields - the world's largest yet - was commissioned in China on 25 September.
The Five Hundred-meter Aperture Spherical Telescopes (FAST) mission in Pingtang County, aimed at observing deep space, was stated to be most visible project of China's plans to transform into high-tech nation focussing on research in advanced science and technology moving away from cheap manufacturing.
Work on the 1.2 billion-yuan (US$ 180 million) project started in 2011, 17 years after it was proposed.
According to China's Xinhua news agency, the mega telescope was made operational around noon, and it will explore space and search for sings of intelligent life.
Dimensions of the FAST mega space telescope
FAST has it has been named after its huge dimensions. The installation of the telescopes main structure -- a 4,450-panel reflector as large as 30 football pitches was built at unique valley in southwest Chinas Guizhou Province.

Over 8,000 people have been evacuated from the area as FAST requires radio silence within a 5-kms radius. Over 600 apartments have been built in two new settlements, about 10 kilometers to accommodate the displaced people.

It took more than five years to complete the construction of the telescope for which the feasibility study was carried out for over 14 years.

It is the world's largest single-aperture telescope since the 1960s until the Chinese telescope was completed in July.

Researchers at the National Astronomical Observatories (NAO) said that FAST was so sensitive at detecting signals from space that it offered far better potential for scientist to detect signs of life on other planets or galaxies.

"FAST's potential to discover an alien civilisation will be five to 10 times that of current equipment, as it can see farther and darker plants," Peng Bo of the National Astronomical Observatories at the Chinese Academy of Sciences told Xinhua.

FAST is expected to place China as the global leader in deep space radio telescope research for the next 10-20 years.

--With PTI inputs