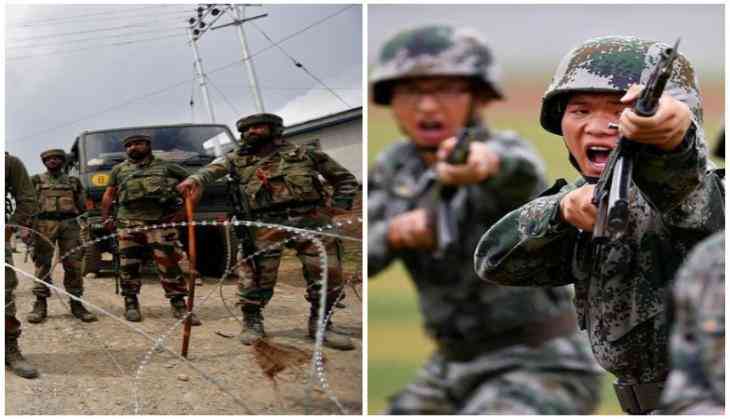 Chinese and Indian analysts believe the military face-off between China and India along an unmarked border in the remote tri-junction of Sikkim, Tibet and Bhutan over the last three weeks again shows the complexity of border disputes, which remain a major source of instability in bilateral ties.
According to the South China Morning Post, these analysts are not sure why the border dispute has boiled over again, but do admit that the stand-off underlines the tense relations between China and India while both jostle for dominance in the region.
The daily further states that it remains largely unclear what exactly has happened along the unmarked border to have as many as 3,000 troops being deployed by each side in what it quoted Indian media, as saying as a "virtually eyeball-to-eyeball confrontation", citing army sources.
The South China Morning Post cites diplomatic observers from both countries as being surprised over the biggest military stand-off between the Chinese and Indian Armies in years in the Doklam or Donglang area.
Both sides are accusing each other of trespassing into their territory and stirring up tensions.
"There is actually a lot of confusion as to where this incident happened. It is not even clear if it was on the Sino-Indian border," the SCMP quotes Rajeswari Rajagopalan, a senior fellow at the Observer Research Foundation in New Delhi, as saying, and adding that the timing of the incident "cannot be a mere coincidence".
Mohan Guruswamy, chairman of Centre for Policy Alternatives Society, an Indian think tank, was quoted, as saying that he believes "a clear pattern is now emerging", although adequate details to ascertain which side did the provoking were not forthcoming.
"The Indian public believes it is China that is ratcheting up the tensions. I hope it is a coincidence, but it strains one's credulity," he adds.
Wang Dehua, director of the Institute for Southern and Central Asian Studies at the Shanghai Municipal Centre for International Studies, said the Sikkim border between China and India has been a source of diplomatic and military tensions in bilateral relations.
"But it is nothing short of a miracle that the Sino-Indian frontier has been largely quiet, without a single shot fired for over two decades" apart from periodic incursions and scuffles, he said.
He noted that China has yet to unequivocally accept Sikkim - where for centuries China claimed suzerain authority - as part of India.
"Along with a flurry of intense manoeuvrings targeting China, including the planned naval exercise with the US and Japan in the Bay of Bengal later this month, India apparently wanted to put pressure on China before Modi's Washington trip to extract concessions from Beijing on the border issue," Wang said.
Jagannath Panda, head of the East Asia Centre of the Institute for Defence Studies and Analyses in New Delhi, however, is quoted, as saying, "China is trying to make a statement that it is high time India accords priorities to address the matters relating to China, including the boundary issue."
According to Indian scholars, the Chumbi Valley in the Donglang region, located in Tibet's Yadong county, is a disputed territory between China and Bhutan. It holds immense strategic importance for both China and India as it could be used to sever Delhi's access to its northeastern states.
China has rejected Bhutan's allegation that it violated its territory, saying its troops operated on "Chinese territory" and also asking India to "correct" its "wrongdoing".
Rajeev Ranjan Chaturvedy, a research fellow at the Institute of South Asian Studies of National University of Singapore, said, "China's incremental territorial grab is not new and it does not appear to be a coincidence. China is upset about India's standing up for Bhutan at Doko La. When China expects others to respect Chinese territorial sovereignty, such intimidating behaviour will complicate the situation further and may amplify the trust deficit further."
-ANI